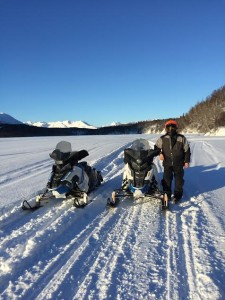 The 2016 Iron Dog Snowmachine Race gets underway this weekend. The ceremonial start in downtown Anchorage begins Saturday morning, and then the green flag officially drops at the Big Lake starting line on Sunday at 11 a.m.
A lack of snow on the north slopes of the Alaska Range and Farewell Burn presented a big challenge to racers last year, prompting many to add supplemental radiators or fans to their machines to prevent overheating. Even then, the racers were forced to reduce speed and travel as a pack over more than 50 miles of bare ground. Iron Doggers are expecting a better trail than last year.
Despite Alaska's below-average snowfall totals, the trail appears to be snow-covered for almost all of its 2,000-mile length from Big Lake to Nome and then to Fairbanks.
Iron Dog Executive Director Kevin Kastner is expecting a fast race.
"Once you get past Skwentna and up to Shell Lake it gets better and better, and even sections out of Rohn and over the [Farewell] Burn are about as fast as they've ever been," Kastner said. "The prediction is for a fast race, and a fast race can also mean more accidents. So we are hoping that they keep it under control. But so far, so good, and the overall trail should be a good one." 
Like last year, the usual race trail on the Yukon River between the Kaltag and Galena checkpoints will need to be rerouted due to open holes around Koyukuk. Iron Doggers will take the overland portage trail on the north side of the river between Koyukuk and Galena.
That area is the home turf of Iron Dog Team 27 – Bobby Frankson and Joe Cleaver. They've entered the race twice before as partners – in 2006 and 2009 – but have never finished.
Speaking from the safety inspection in Anchorage on Wednesday, Frankson said that the week before the race is a relentless push to get ready.
"Countless hours of turning wrench and dialing in," said Frankson. "I drove into Anchorage at 4 o'clock in the morning and got up at 7. And here I am at the Expo, and apparently I am not the only one." 
Forty-one teams are signed up in the competitive Pro Class, and seven more are in the non-competitive Recreational Class.
Polaris is the most popular make of snowmachine in the race, with 19 teams signed up. Ski-Doo is second with 12 teams. Eight teams are riding Arctic Cats and only two have chosen Yamaha.
Polaris machines have crossed the finish line first two years in a row, and five out of the last seven years.
A first place prize of $65,000 is up for grabs as part of a $260,000 purse. The winning team is expected to arrive at the finish line in downtown Fairbanks around noon on Feb. 27.