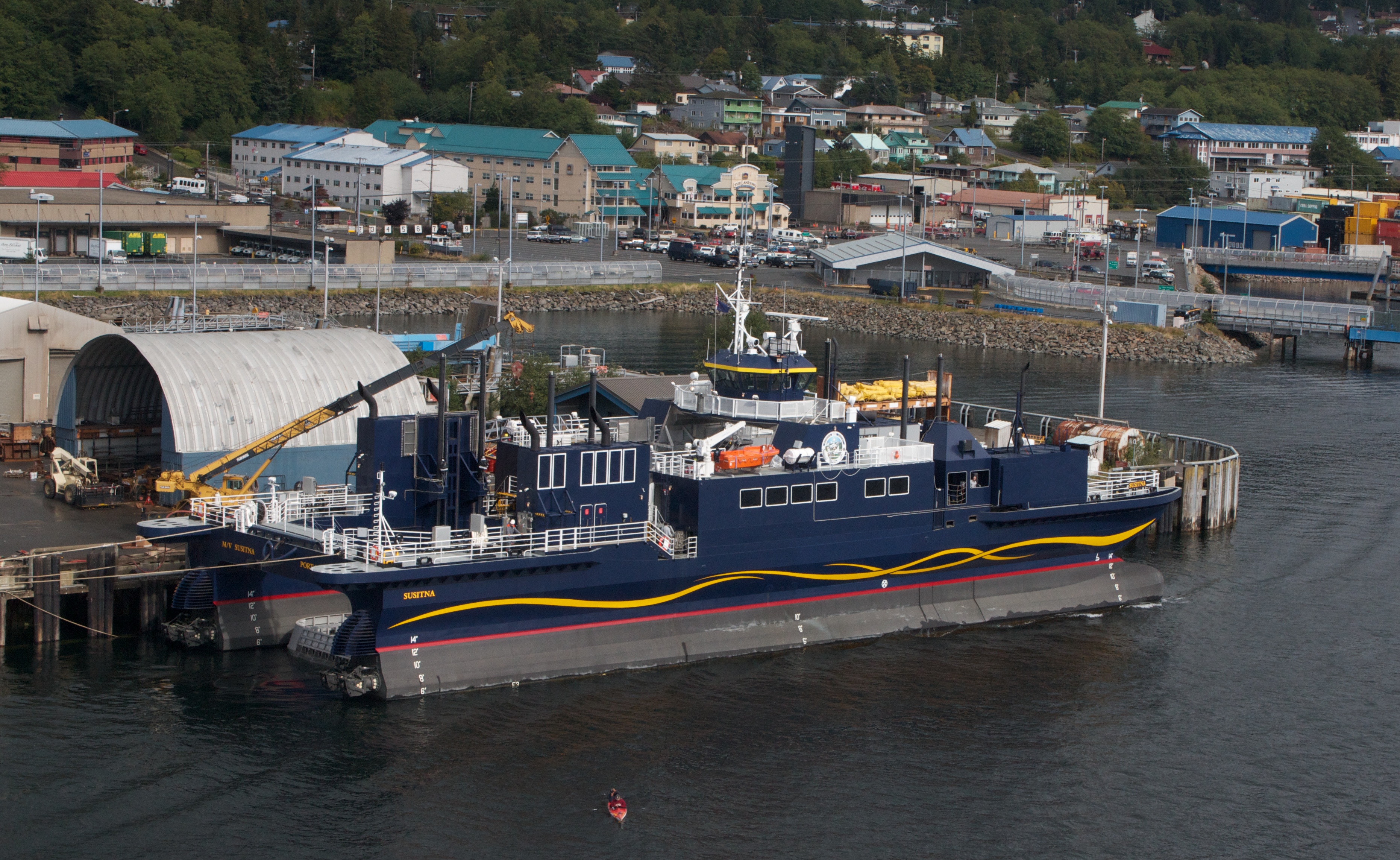 The Matanuska-Susitna Borough's ailing and unused ferry Susitna is headed to Seattle on the end of a tow rope, after the latest developments in the vessel's years-old saga.
At a special meeting Tuesday hastily called by borough Mayor Vern Halter, new information was presented about the cost of the repairs necessary to satisfy a potential buyer.
In early December, the borough assembly accepted a down payment of $250,000 for the purchase of the vessel from the Philippine Red Cross. The deposit is to be used to help pay for repairs on three ruined ferry engines. At the same December meeting, the Assembly approved spending $870,000 from borough reserves to complete the engine repairs. Insurance is expected to reimburse the $1.1 million total.
But there's a new snag.
"The $1.1 million fix is slightly north of $3 million," said Borough Manager John Moosey.
An insurance company engineer's analysis indicates a need for a complete rebuild of all four engines on the ship, which cannot be done in Ketchikan. So tug operator Foss will tow the Susitna to Seattle for $100,000.
Moosey said the borough has a March 31 deadline for completing the repairs. It's a deadline they can't hit. Borough Port Director Marc Van Dongen said repairs would take 60 to 90 days, and sea trials must be completed before the sale.
Assemblyman Steve Colligan wanted a contract with the buyers before any action on the ferry move.
"I don't think we should do anything unless the buyer is going to agree, and we have a date out there far enough so that we know 100 percent, you're going to get that work done. Otherwise, we should cut our losses now. … Scrap it," Colligan said. "We would be better off spending $500,000 to send it to the scrapyard."
But the assembly approved a motion by Assemblyman Dan Mayfield that would allow the ferry to be towed to Seattle as soon as possible, with its final fate to be determined.
"The vessel has been sitting in Ketchikan for quite some time, without a lot of action to proactively repair it," Mayfield said. "So we need to show good faith both to our insurance company and to the Red Cross that we are going to proceed with repairs."
The assembly also directed manager Moosey to seek an extension from the Philippine Red Cross on the final sale date.
Mayfield said the borough's maritime insurance company has not guaranteed full payment for the repairs. He said some expenses are being questioned. But, he said, the Susitna would not be a total loss between insurance and the sale price of the ferry.
Mayfield said if the sale falls through, the vessel could be scrapped, and there are more resources to do that in Seattle than Ketchikan.
The ferry Susitna is expected to exit Ward's Cove in Ketchikan in the next couple of days, weather permitting.