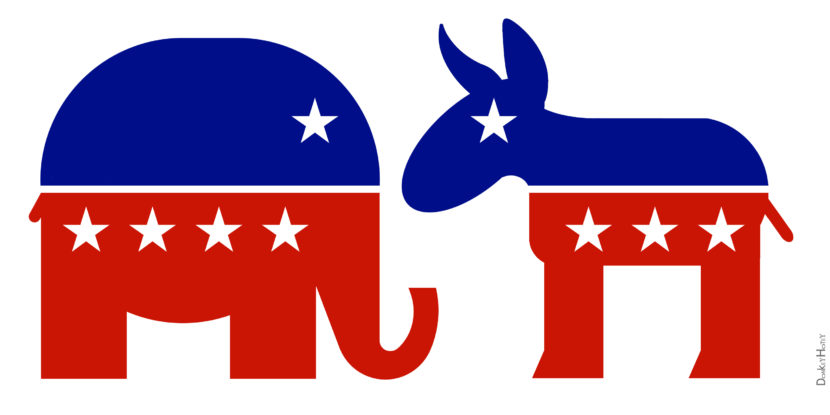 As the presidential primary season plays out across the country, Alaskans have to wait until next month to have their say. But Republicans and Democrats in the state use different procedures for choosing delegates.
For Republicans, it's a more traditional ballot. The Democrats will gather in groups, like in the recent Iowa caucus.
Alaska's major parties will pick their candidates on different days.
The Republicans will choose theirs on March 1, also known as Super Tuesday. Their election, known as a presidential preference poll, will be conducted much like other elections. Each voter will be given a piece of paper with the candidates' names. They'll mark their preferred candidate, and place the paper in a ballot box.
Alaska will have the same number of delegates as much more populous states, like Oregon, because Alaska has voted heavily Republican in previous federal and state elections.
Party Chairman Peter Goldberg said the combination of voting early and being heavily Republican gives the party outsized sway.
"Even though by population we are a tiny state, we have disproportionately large influence upon the ultimate selection," he said.
Alaska Democrats will hold their caucuses across the state on March 26, the same day as Hawaii and Washington. In the caucuses, voters who support each candidate will gather in a corner of their local polling place before casting ballots.
Alaska Democratic Party Executive Director Kay Brown said the party has been energized by having a competitive nominating process, between Hillary Clinton and Bernie Sanders.
"I think that it makes it more interesting to people – the fact that there's a contest and it certainly will generate interest by the campaigns in turning people out to take part in the caucuses," Brown said.
For Republicans, the large field of candidates has drawn interest.
Goldberg said Republicans also are capitalizing on a competitive primary season by increasing their registrations.
"People in Alaska — Republicans in Alaska — are very excited, and I'm finding that just on the phone calls that come to me that people are switching to the Republican Party," Goldberg said. "It's at least once a day that some Democrat is calling me and saying, 'How do I switch?'"
But while there is early excitement about the election in the state, few national campaigns have invested resources to build up campaign organizations in the state. On the Republican side, Ben Carson and Marco Rubio have state campaign coordinators.
Sanders also has a coordinator based at the University of Alaska Anchorage.
Matt Dean, a Republican activist, said the state will always struggle to receive large investments from presidential campaigns.
"It does take a little bit of a time to get your base spread out to every state … and Alaska only has three electoral votes," he said. "I mean, I do understand from a strategic standpoint, I did use to work on campaigns.  But it is very nice to see when people at least make the effort to get up here."
Each party's rules determine how many delegates states have.
Just as Republicans' performance in previous elections increased their delegate count, the Democrats' count is lower than other states with similar populations. The Republican preference poll and Democratic caucuses determine the share of the state's delegates who are pledged to each candidate in the parties' national conventions.
However, the actual individuals who serve as the delegates will be chosen in local party conventions that also begin in March. Both parties require that poll or caucus voters be registered with the party.