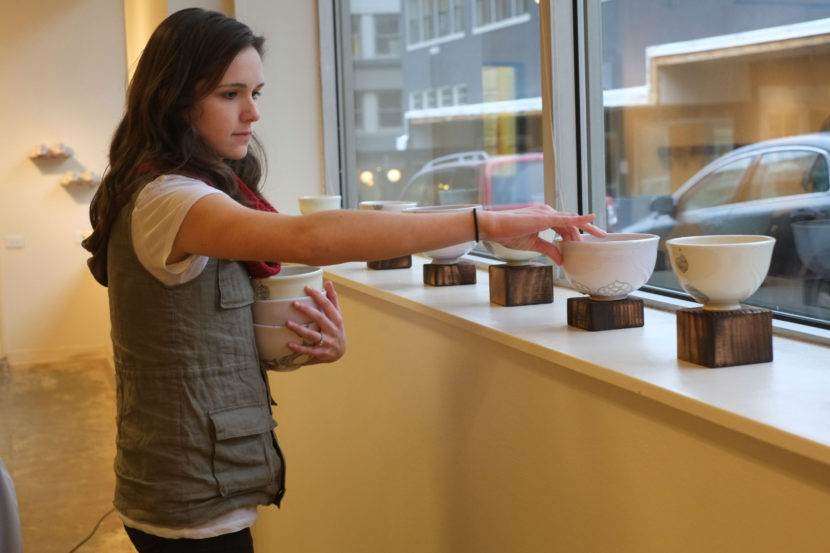 It's a rainy Saturday morning and Mercedes Muñoz is working over a crackling fire pit outside her Starr Hill home.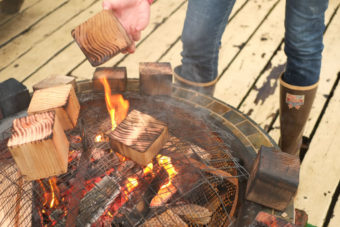 "I cut a bunch of 4-by-4 cubes and right now I'm torching them, putting them over a fire," she says. "And then I'm going to go back and sand them down, get them all polished up and then cut a keyhole mount in the back so that each tumbler will have its own little pedestal to sit on, on the wall. It ended up being maybe just as big of a project as making the work."
She mounts the custom blocks all over the gallery walls of The Canvas. There's one to display each of her tumblers, bowls, mugs and tea pots. Over the past few months, she's created more than 140 functional ceramics for her show "Good Continuation" at The Canvas, which opens tonight. It's her second professional show after almost a year as the ceramics studio manager.
The entire project is four months in the making. It's the product of evenings, lunch breaks and weekends throwing, firing, glazing and creating her intricate designs.
Her pottery features a technique called Mishima that allows her to etch fine dark lines onto the surface of her porcelain pieces, marrying her background in drawing and illustration with organic three-dimensional forms. The lines tangle and twist into repetitive geometric patterns, which break up her creamy pastel glazes. Metallic gold accents punctuate the designs.
One was inspired by her grandmother, the late Alaskan artist Rie Muñoz.
"On this teapot, I have a bit of cross-hatching that's actually a technique that Rie used. If you look at the backgrounds of a lot of landscapes she had watercolor washes, but underneath it, she had pen drawings, and they had this exact cross-hatching technique," she says.
Her exhibition isn't the only deadline she's working toward. She's also making 90 handcrafted plates that The Canvas is giving to guests at its annual fundraising dinner.
Last year, Brandon Howard was sweating over the plates when he was in Mercedes's role.
"Just to put this in perspective, each plate requires 6 pounds of clay to start with. That's 500 pounds of clay that Mercedes manhandled into plates. And if you've ever meet Mercedes Muñoz she's not this big, buff lady. She's slight but she's a powerhouse. She was in there and she was cranking out 25 plates a day like it was nothing," said Howard.
Muñoz made the plates with a little help on the sepia-toned design reproduced on each one.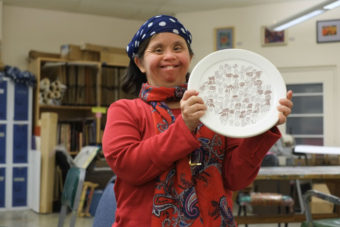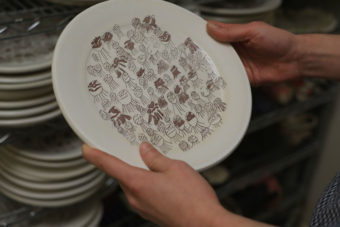 "The artist is Joanne Sam and she did a beautiful image of a bunch of little figures and they have these really expressive eyebrows and eyes, big smiles and it just covers the entire center of the plate," says Muñoz.
She also teaches ceramics to adults with developmental disabilities, community wheel-throwing classes and home school students.
Brandon Howard, who is now the artistic coordinator at The Canvas, says she's an amazing teacher.
"People learn a lot and they learn quickly taking a class from Mercedes. Those organizational skills lend themselves really well when it comes to handing out information in a clear, succinct way to her students," Howard says.
Muñoz says her grandmother encouraged and inspired her to pursue the arts.
"From when I was a little kid and making horrible little drawings and she acted like it was the most beautiful thing she's ever seen. I see a lot of people who say that they can't create anything. 'Oh I can't draw, I can't paint, I can't do this,' and I think that's a shame and I feel like that starts when kids are young and don't have the encouragement. So that's something I always try to do whether it's adults I'm teaching or kids, I want everybody to feel like they can create, because they can. It's just practice."
With more than 200 new pieces, the practice shows.