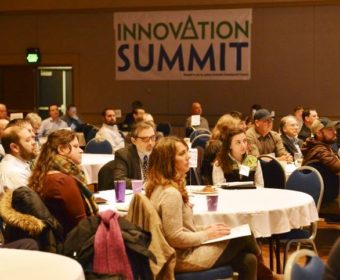 The fifth annual Innovation Summit begins Feb. 8 at Juneau's Centennial Hall.
It's a business symposium that attracts 200 to 250 people from around the state, though most are from Juneau. They discuss commerce and hear experts in a variety of related fields.
Brian Holst is executive director of the Juneau Economic Development Council, which is putting on the event.
"The innovation summit really is an intense day-and-a-half opportunity to immerse yourselves in lead thinking around how do we address these issues that we're dealing with and how do we advance our regional, local economy," he said.
Holst said state budget cuts and the Juneau Walmart closure mean it's a good time to consider the area's economic future.
The agenda includes speaker Michael Shuman, an expert on local economic development. Another is Karen Pittman, whose focus is youth investment.
Holst said a new program added to this year's summit is an entrepreneur pitch breakfast.
"We've invited four entrepreneurs that have businesses that are at the beginning of their lives. They're going to pitch their ideas to a live audience and then the audience is going to select by voting which is the most compelling business opportunity," he said.
The winner receives a cash reward.
The Innovation Summit begins at 1 p.m. Feb. 8 and continues through the evening of Feb. 9 at Juneau's Centennial Hall.
Editor's note: The date the summit begins has been corrected. It begins Feb. 8, not Jan. 8.