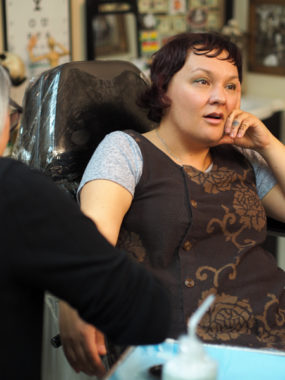 Alaskans may know Iñupiaq artist Holly Nordlum as a graphic designer, jewelry maker and creator of art that provokes conversations about the painful history of organized religion's impacts on Native people. Born in Kotzebue, Nordlum is a powerhouse of ideas and creative energy.
Recently her desire to get a traditional Iñupiaq chin tattoo led her on a journey of searching for tattooists who could teach the ancient, cultural art of tattooing with ink and thread, or skin poking.
She worked with other artists and her partner, Greenlandic Inuit Maya Jacobson through a Polar lab program at the Anchorage Museum. They made a short film about their quest. Nordlum decided there was more to tell, so the first-time filmmaker set out to produce a documentary. She tells told the story of how she applied to the Sundance Institute's Native American and Indigenous program and was accepted.
NORDLUM: I was super excited obviously. Having the Sundance name behind your film, behind your project, is huge for a film.
TOWNSEND: Especially for a first film.
NORDLUM: First film. First-time producer. First-time director. First-time writer. Right, I mean that said, I've been doing the arts for 20 years, professionally for 10. It's not like I'm a newbie, but yeah, definitely taking a big chance on me. Very exciting. I get to go to all these Sundance films, but also the events and the receptions, and we're gonna do a lot of press, and that's all really exciting. You know, just to make sure I'm promoting as much as I can about the film but also about other Alaska Native artists while I'm there. It's a big opportunity for us as a group of contemporary artists also.
TOWNSEND: Have you worked out the full concept of what the film will be? Tell us about what exactly you're planning and what the film will try to accomplish.
NORDLUM: Well we've decided on Tupik. The tattoo program through the museum is called "Tupik Mi: Tattoo People." Tupik will be the name of the film, and Tupik means tattoo in Iñupiaq. The film itself will be about Maya and I and our struggle through this, but also about peoples' perceptions of face tattooing. It'll be interesting to get a pro and con and we're going to do a little bit with the family. But also, the training program is a big part of this. And really the film isn't about just tattooing. It's about being a proud Native person: Proud Aleut. Proud Iñupiaq. Proud Tlingit person. It's being proud and wearing that proudly. So really that's what the goal of the program and the film will be: Proud of your history and your family and your culture.
TOWNSEND: At one time, Native people of the North, and I'm not sure if it was Iñupiaq or Yup'ik or who, also had ivory plugs.
NORDLUM: Yes… So beautiful.
TOWNSEND: Has anyone talked about also going back to doing some of that?
NORDLUM: Absolutely. I mean, with tattooing there's a lot too, with the inks and the methods. But then we've also talked about that. I mean, I have big dreams of going back to all of that. There is an artist who had plugs put in, but he had them done at a shop. So then looking at that traditionally and how that transpired is very interesting. And we run across that and we kind of keep that material for future 'cause this isn't a small project for us. I consider this, I'm lucky enough to make this, part of my life: promoting traditional tattooing and being a proud Native person, working with students, working with adults. I feel like I'm lucky to be able to do this.
TOWNSEND: So you leave for Sundance soon. What's the timeline then? After the big wonderful festival, then the actual work gets started. So what are you looking at for a timeline for when you think the film will actually be ready to be out?
NORDLUM: We've actually done some filming. We went to New Zealand for an all-indigenous conference. Then when Maya was here for the kickoff program with the museum, we also did filming then. So we've already started. Really, I want to come up with a more concrete plan, where to go from here, and make the best quality film I can. We figure that'll take two years. So I'm hoping Novemberish 2018 we'll have some kind of product. That's my end date, my hopeful goal.