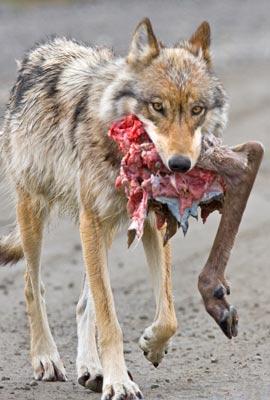 Denali National Park and two conservation groups are asking the Alaska Board of Game to consider proposals aimed at protecting park wolves. The proposals are not currently in line for review until next year.
Denali National Park chief of resources Dave Shirokauer says the park's proposal would eliminate overlap of state spring wolf hunting and bear baiting seasons along the park's northeast boundary.
"We do know that two members of the East Fork pack were harvested in association with a bear baiting station last spring," Shirokauer said.
He said the deaths are likely why Denali's once popularly viewed East Fork pack did not den this past spring, an issue given the park's overall wolf population is at an all-time low of fewer than 50 animals.
The hunting season adjustment is more modest than what the Alaska Wildlife Alliance and Denali Citizen's Council are seeking. DCC Secretary Nancy Bale describes a proposal which would ban wolf harvest on a swath of state land.
"Set aside an area that includes the wolf townships and the Nenana Canyon area, which are areas where wolves take forays outside the park," Bale said.
The Game Board eliminated an earlier wolf buffer zone in 2010 and imposed a 6-year moratorium on consideration of Denali wolf proposals. That's set to end, but Bale says a change to the regional meeting schedule means further delay.
"Last year, the Board of Game changed their cycle of meetings from every two years to every three years as a cost-saving measure," she said.
The sponsors of both Denali wolf proposals are requesting the Game Board consider them out of cycle at a statewide March meeting in Fairbanks.