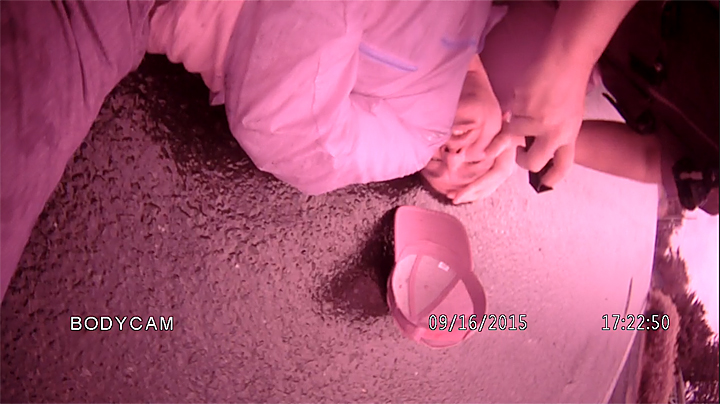 The City of Kodiak released recordings and documents related to a September incident in which three city police officers are accused of using excessive force in subduing an autistic man.
Police responded to a 911 call from a man who said Pletnikoff was trying to enter his rental car. The man was in Kodiak on a sport-fishing trip.
Kodiak Police have been dealing with a rash of unsolved car, home and business break-ins and were reportedly suspicious of any such activity.
Pletnikoff had just checked his family's mailbox, across the street from the bed-and-breakfast where the man was about to check in. Judy Pletnikoff, Nick Pletnikoff's mother, watched the police videos last week.
Sgt. Francis de la Fuente first asks Pletnikoff if he has any identification.
"No, I don't," he responds.
"Put your hands behind your back,"de la Fuente says before telling Pletnikoff to "stop resisting!"
De la Fuente and officer Kathleen Gambling are heard falling to the ground with Pletnikoff. Officer Phillip Christman assists and encourages Pletnikoff to comply. They struggle for about 90 seconds. Pletnikoff says he's sorry and asks if he can go home.
Judy Pletnikoff says her son was trying to be as cooperative as he could.
"The speed of the escalation is shocking," says Judy Pletnikoff. "I think it was six seconds until they grab a hold of Nick and by 30 seconds they got three guys on top of him on the ground. It was really fast and pretty brutal. A lot of pushing his head into the ground and then they pepper-spray him point-blank right in the face."
Judy Pletnikoff arrived at the scene as the incident was de-escalating and paramedics were treating her son. 
Family attorney Josh Fitzgerald said he learned from the information released by the city that one of the police officers did know Pletnikoff and of his developmental challenges.
"He actually put away his pepper spray, based on his knowledge of Nick, but he doesn't communicate that to the other officers," Fitzgerald said. "So we know one of the officers did know exactly who he was and that he was someone with special needs, which is certainly disturbing to learn."
Judy Pletnikoff said she hopes her son never has to see the tapes and be forced to think about that encounter again.