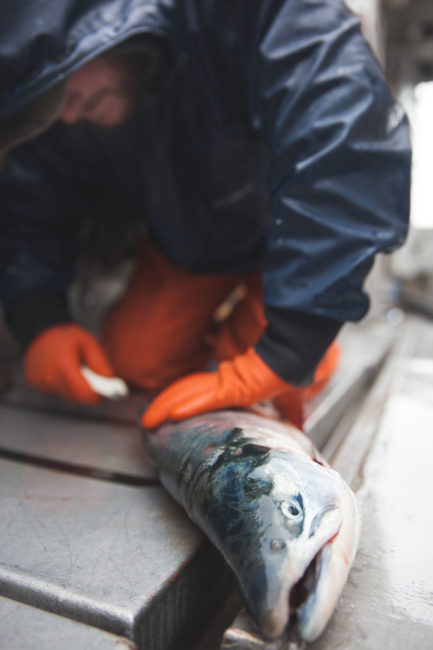 Next July, a commercial fisherman will land the 2 billionth salmon caught in Bristol Bay's 133-year fishing history.
Since the inception of Bristol Bay's canned salmon industry in 1884, its fishermen have landed 1.99 billion salmon, 93 percent of which were sockeye. Fishermen will achieve the 2-billion-salmon milestone when they catch another 9.5 million.
This will happen next season, based on the Alaska Department of Fish & Game's recently released forecast for a harvest of almost 30 million sockeye in 2016.
Catching the 2 billionth salmon is an opportunity to reflect on Bristol Bay's salmon resources, their value to fishermen and the state, and the reasons for their health.
Two billion salmon is about 12 billion pounds of high-quality protein that is in demand around the world. Fishermen earned $5 billion from that catch, and its wholesale value is two or three times that. It is the product of a fishery that is healthy and sustainable.
The success of the Bristol Bay salmon fishery can be attributed to the region's tremendously productive natural habitat, the science-based management of the resource, and the shared commitment to stewardship by the state, fishermen, and seafood processors.
Salmon elsewhere around the world have not fared as well. On the Atlantic Coast and in the Pacific Northwest, salmon stocks have suffered from overfishing, dams, loss of habitat and pollution.
Bristol Bay wasn't immune from such threats. Stocks were overfished in the early years and hammered by foreign high-seas fleets. In the 1950s, Bristol Bay catches sank.
Then came Alaska statehood, bringing a constitutionally mandated commitment to sustainability. Fish and Game took that charge seriously, applying new science and management tools.
Processors supplemented that work by funding the University of Washington's Fisheries Research Institute. The University of Alaska and the locally-funded Bristol Bay Science and Research Institute added to those efforts.
Rebuilding salmon runs didn't come easily. It required sacrifices on the part of fishermen and processors that were hard on many. But it paid off. Combined with favorable natural conditions, it resulted in the unprecedented harvests Bristol Bay produced in recent decades.
It took 95 years for Bristol Bay to produce its first billion. The 2 billionth salmon will come just 38 years after that.
That 1 billionth salmon was caught on the afternoon of June 28, 1978, in the Nushagak River district.
At the end of the 1977 season, the combined Bristol Bay catch stood at 998 million salmon. The 1978 season started slowly as fishermen and processors haggled over sockeye prices.
Early in the season, 700,000 salmon were landed but fishing ground to a halt as price talks dragged on. Fishermen and processors finally reached a settlement on June 27 and the fleet went out.
In 12-hour openings that day in the Naknek/Kvichak and Egegik districts, fishermen landed 900,000 salmon, boosting the total to 1.6 million.
The Nushagak district opened the following morning. When it closed at 6 p.m. June 28, another 660,000 salmon had been landed, including the billionth fish.
It was probably a sockeye, but one in five salmon landed that day on the Nushagak was a chum. It also could have been a Chinook. The 1978 season was pretty good for king salmon, but only 3,000 were landed that day.
Rarer still, it could have been a pink salmon. 1978 would be a record year for pinks in Bristol Bay, but that day only five were landed.
Whoever catches the 2 billionth salmon will never be known. Fishing will probably be fast and furious when next year's catch tops 9.5 million. Anyone could claim credit for catching the 2 billionth salmon. And everyone should.
Management and preservation of a resource as valuable as Bristol Bay is a shared long-term responsibility of fishermen, processors, and the state and federal governments.
While we celebrate this milestone of history, we should keep our focus on Bristol Bay's future.
Because challenges remain. Climate change, warming ocean temperatures and increased acidification pose potential threats to the high seas survival of salmon. The state's current budget woes threaten support for needed research and management efforts.
With continued scientific management of the salmon resource, maintaining the fish's natural habitat and a little good luck, Bristol Bay fishermen might look forward to catching its 3 billionth salmon in 2054.
Bob King was news director of KDLG radio from 1978 to 1994. He recently served as adviser on fishery issues to U.S. Senator Mark Begich.