A legend of traditional Alaska Native games has died. Big Bob Aiken, known as the "The World's Largest Eskimo" still held records for the Indian and Eskimo stick pull competitions. He believed deeply in the original purpose of the games.
In a phone conversation last July from the World Eskimo Indian Olympics, or WEIO, games in Fairbanks, he said the games were meant to be friendly competition that tested strength and revealed who would be a good hunter.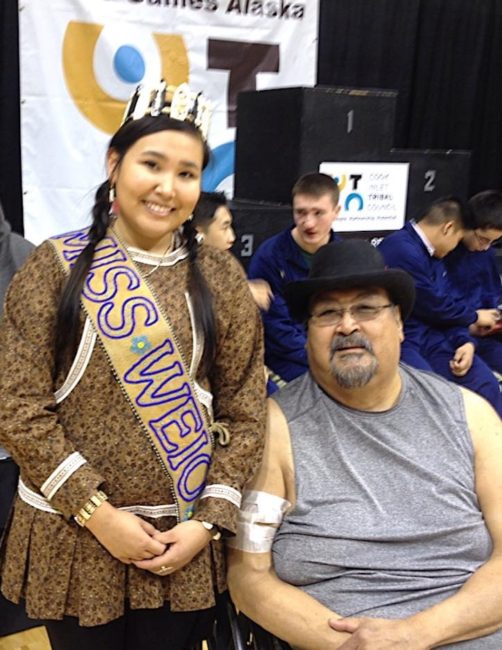 "Then if you knew exactly what you are capable of, you'd have a better chance of surviving in an incident that happens out in the wilderness. Because I hurt myself one time and I knew I was capable of by these games. So we were raised to survive whatever happens. That's who we are, that's how we grew up."
Lew Freedman worked as a reporter for the Anchorage Daily News in the late '80s and became a friend of Bob Aiken as he covered him in Fairbanks at the WEIO games. He said although Aiken didn't have his own children, he cared for all children involved in the games and was an important diplomat.
"The kids would like swarm around him and he was interacting with everybody. You know it was sort of like, we can't make a decision about anything without seeing what Big Bob thinks about it and he was that kind of fella, you know he just stood out with a big personality to go with his big size."
Freedman says he thinks the final year that Aiken competed in strength games was 1989 and Big Bob intended to retire with all of his gold medals and one more win.
"There was a big surprise that year because a new guy came on the scene, Brian Walker from Eagle River, who was also a big guy but nobody was as big as Big Bob at the time. And Brian beat him, so actually Big Bob lost at the end of his career, kind of probably completing the thought process that it was time to retire."
Bob Aiken was a lifelong Barrow resident until the last few years when he had to live in Anchorage for dialysis treatments. In recent months he had also developed a heart problem. Freedman says he was a warm man with a great sense of humor and even with his health trouble, he never missed the games, acting as an MC, or an official and remained a large figure both physically, at 6 foot 4 and as a champion of performing the games correctly.
"But more than anything else he had a sense of tradition and heritage and wanted that to be passed on to future generations. That was the most important to him. You'd have to say he was a keeper of the flame and that was what really integral to his continuing involvement with WEIO was, through the rest of his adult life."
Big Bob Aiken was 62 years old and died in Anchorage Tuesday.