Update |  1:54 p.m.
Video of the fire from earlier today by Dean Swope at KYUK.
Update | 12:25 p.m.
The fires have calmed, but firefighters and law officials are still working to douse all the flames. The second half of the Kilbuck building is completely destroyed. However, the library, which housed Yup'ik artifacts, wasn't damaged.
Police have cleared out Fifth Avenue and blocked off the area.
The armory, located next to the building seems to have remained untouched by the flames.
Update | 11:24 a.m.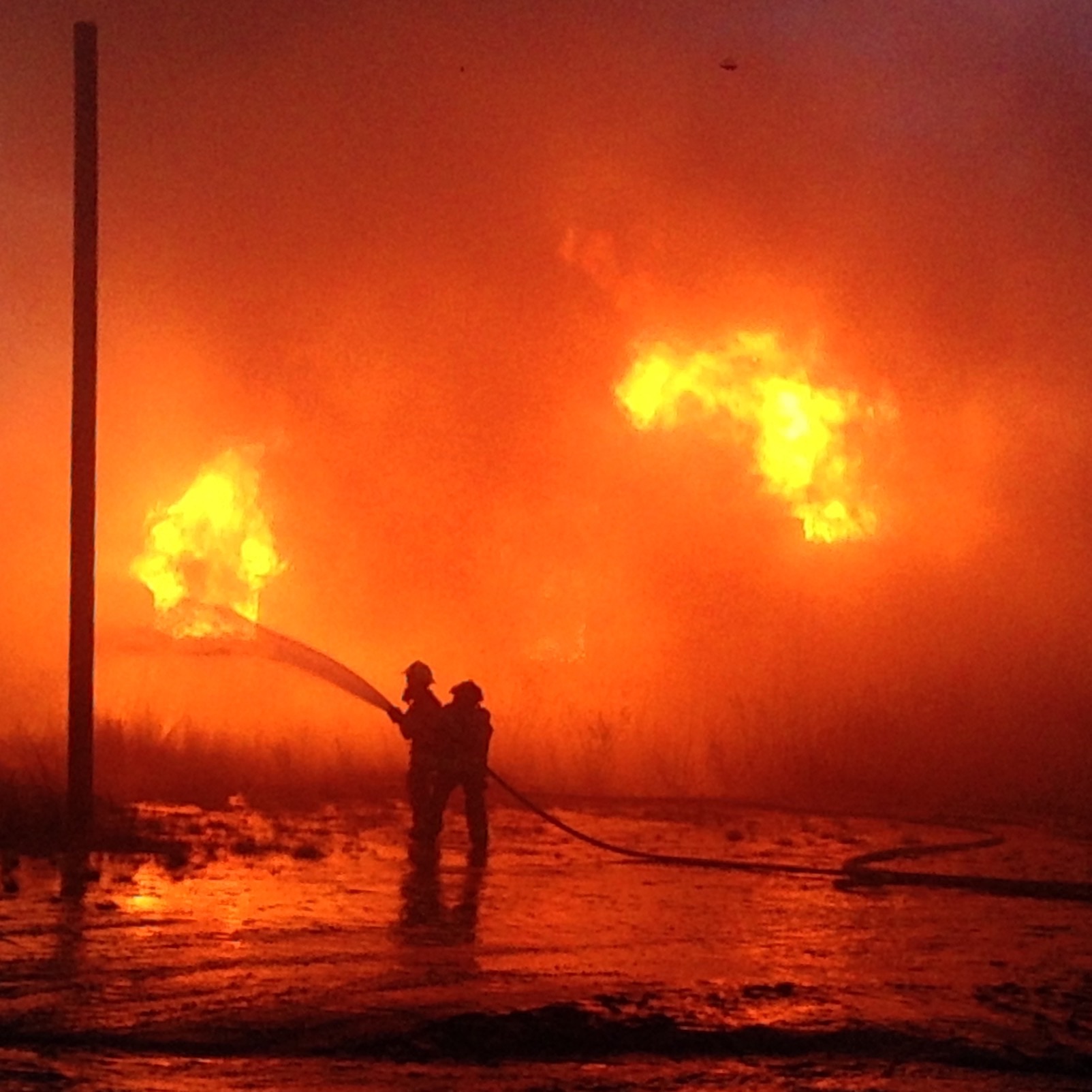 Fire crews continue battling flames at the Ayaprun Elitnaurviat Yup'ik immersion school and the Kuskokwim Learning Academy. There have been no reports of injury.
Fire hoses are streaming water into the Kilbuck building from multiple directions as thick smoke billows from every door, window, and sections of fallen roof and giant orange flames rise thick above the building.
Excavators have torn through the building, ripping the structure in two, to isolate the fire to one wing of the school and save the library housing Yup'ik artifacts from incinerating, though smoke and water damage is likely.
Backhoes also ripped sections away from the front part of the building to prevent flames from spreading to the adjacent armory.
Water trucks continue pulling in and out of the school, dumping their water and tearing out to gather more to bring back.
Police officers are blocking off the street and maintaining a perimeter as onlookers gather, some staring, some videoing, some crying, as they look on in disbelief.
School has been cancelled for the day and the KLA dorms evacuated. Teachers have been told they will be given more information on what to expect tomorrow by 5 p.m.
According to Bethel police officer Kadri Limani, the fire department received a call at 3:46 a.m. that sewer pipes outside the building were smoking. The fire alarm sounded inside the KLA dorms, and the students, many wearing just their pajamas, evacuated.
The fire department responded immediately and attempted to contain the fire, but it had spread inside the building.
Police spent the morning diverting traffic as children walked to school and parents came to drop their kids off.
Attempts to extinguish the fire are ongoing.
Update | 11:13 a.m.
Firefighters and other officials work to save the southern side of the building. Efforts to calm the fire are still ongoing.
Original post | 7:50 a.m.
School at the Ayaprun Elitnaurviat Yup'ik immersion school and the Kuskokwim Learning Academy is closed today as fire crews battle a fire at the Kilbuck building in Bethel.
Josh Gill with the Lower Kuskokwim School District said no one was injured and the extent of the damage is still being assessed.
Gill said the school district will consult with the Bethel Fire Department and will release further information at later time.