Update | 5:30 p.m.
According to the Haines Police Department, a few vehicles have been let through the slide where it is cleared, but the road has not yet officially opened.
HPD says that DOT will clear the road until dark and if it's still not safe, the road will be closed overnight. Use caution and don't travel on the Haines Highway tonight unless absolutely necessary.
HPD says the slide is filling in as fast as they can clear it.
Update | 4:10 p.m.
Capt. Michael Duxbury with the Alaska State Troopers in Ketchikan said the slide is about 6 feet deep at 19 mile. He said no damage or injuries have been reported, and that they don't know the extent of damage to the road. Duxbury said the road is expected to be cleared no earlier than 6 p.m.
He said that crews are using extreme caution as areas are still sliding and that people should try to steer clear.
DOT spokesman Jeremy Woodrow said they are currently using front-end loaders and excavators to move the mud and debris. He said that he has also heard there are several slides, though he could only confirm one at 19 mile.
"We really do have to let it finish. The hillside keeps moving into the roadway. It has to work its course and then move the debris as it comes down," Woodrow said.
Original story | 4:01 p.m.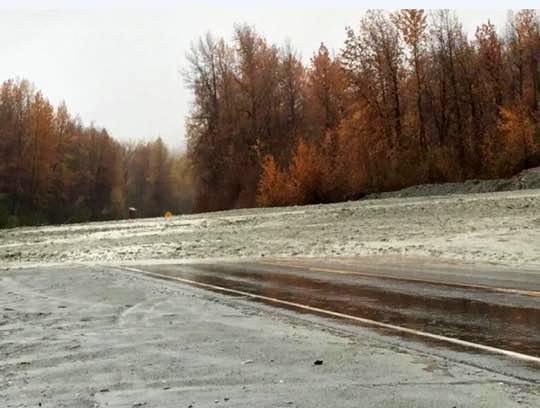 The Haines Highway is blocked because of mudslides this afternoon after a couple days of heavy rainfall. According to highway residents, there are four slides between 18 and 21 mile that have made the road impassable.
The Haines Police Department said state transportation officials are there attempting to clear the slide, but they don't know when the road might be passable. An HPD spokesperson said no injuries have been reported.
According to Haines School Principal Rene Martin, the highway bus will run, and if they have to turn back, students will wait at the school until the road is clear or they get directives from parents.
Haines resident Kaitlin Combs was driving out the highway with a friend to go grouse hunting when she came across a slide covering the highway at 18-mile.
"The way it was moving, it was coming closer and closer so I think it just happened right before we got there," Combs said.
She said it looked about a foot deep, but mud, rocks and debris were moving quickly down the mountainside to the road. Combs also said that there were rocks on the road around 8 mile.
According to the National Weather Service, the rain is expected to continue through the weekend.
This is a developing story. Check back for updates.