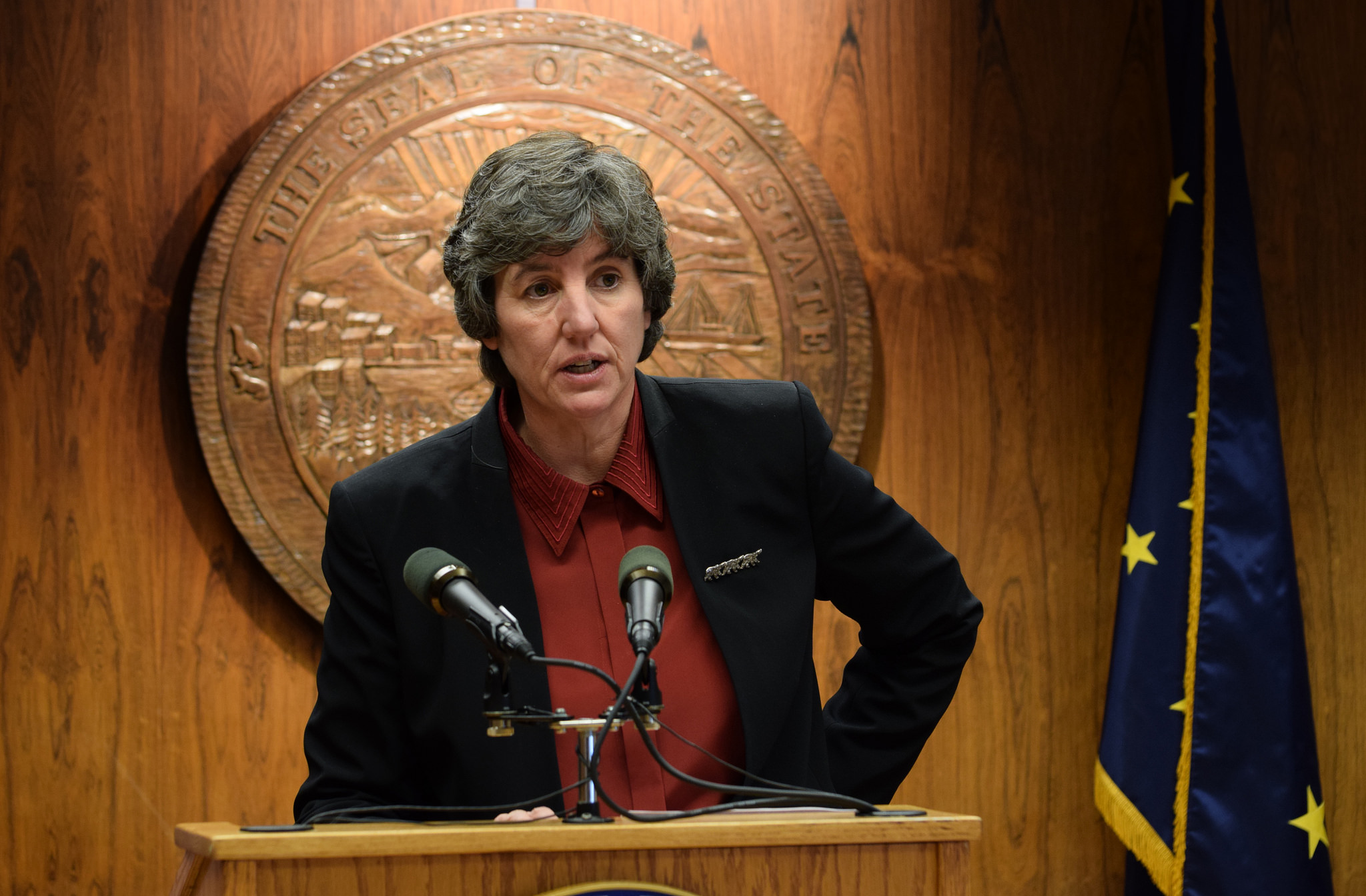 The state needs to consider more than just cuts to address Alaska's fiscal situation; that was the message from the Gov. Bill Walker's budget director Pat Pitney at last week's Southeast Conference fall meeting, which was held in Prince Rupert, British Columbia.
A former Olympic gold medalist in women's rifle, Pitney said she expects to be a target for criticism as she travels around the state providing information about Alaska's budget crunch and the options for the state to overcome.
"It's not a popular conversation," she said. "We've been good for 30 years on oil revenue when the income tax was repealed years ago. We've had a good ride and now we're going to have to move into a new environment and people are not going to be happy. There's going to be a lot of arrows, especially coming to the spokesperson."
Pitney's message is in line with what appears to be the Walker administration's effort to ease the public into a conversation about revenue options outside of oil. Walker and Lt. Gov. Byron Mallott both hinted at the need for new revenue during their Permanent Fund dividend announcement last week.
Alaska's budget deficit is in the billions because of low oil prices. Pitney said the legislature cut about $400 million from both the operating and capital budgets during its last session. Despite the cuts, lawmakers were still more than $2 billion short of filling the gap.
Pitney's presentation is the same one she and Department of Revenue Commissioner Randall Hoffbeck have been giving to various groups across the state. In it, they stress that while more cuts will happen, it's not possible to balance the budget on cuts alone.
"We've continued to cut government, but there's got to be a point at which we say there's a level of service as Alaskans that we want," she said. "That's going to be a negotiation: Where is the level of service that we want? What are our priorities as a state? Those are discussions that are ongoing and do weigh in with your legislators on those choices."
Modifying oil tax credits is an option, and that will happen, Pitney said, because it's a large budget item — $700 million or more a year.
Using the state's current assets differently is on the table, too. Included in that option is capping the Permanent Fund dividend. The state could then allocate 5 percent of the fund's market value for spending. "Percent of market value" is an approach to funding state government that has been discussed for years. The Alaska Permanent Fund Corporation has passed several resolutions in support of such an approach. During the last legislative session, two lawmakers introduced separate bills outlying their versions of the scheme.
And then there are taxes: Industry taxes, fuel taxes, sales taxes, income taxes and so-called sin taxes. Pitney said Alaskans pay an average of $500 a year in taxes to the state.
"On average, citizens pay between $2,000 and $2,500 for all other states," she said. "We are by far the lowest in broad-based taxes."
Pitney said a small increase in personal taxes for Alaskans still would keep the state on the low end of the national scale.
She asked for input from some of the Southeast Conference audience members. Myrna Gardner, business and economic manager for the Central Council of the Tlingit and Haida Indian Tribes, said seasonal workers in Alaska should contribute.
"I was sitting here looking at (the Department of Labor's) research and analysis, their 2013 report. Nonresident workers increased by .29 percent, up to 86,291; their wages went up 5.7 percent to $2.4 billion," she said. "Eighty-six thousand people take from us and benefit from us. And they, in my personal opinion, should be the first choice of who we tax."
Pitney said she and other state officials are gathering input like Gardner's to be considered by the governor's office for a budget plan to resolve the state's deficit.
She said Walker expects to have a draft plan done by next month, with a final plan ready for legislative consideration by the end of the year.
The legislature reconvenes in January, and Pitney said lawmakers should not delay a decision.
"The reality is, the legislature must act in this legislative session to avoid hitting the cliff," she said.
The information presented by Pitney to Southeast Conference participants is available on Gov. Walker's website. It includes a revenue and expenditure model, which allows individuals to see which spending cuts and revenue options can lead to a balanced budget.