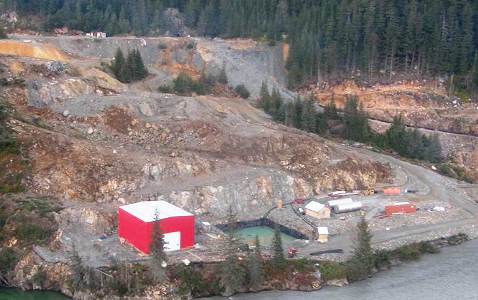 A top British Columbia official is meeting with owners of the Tulsequah Chief Mine, which is leaking pollution into a river that flows into Alaska.
During a recent visit to the state, B.C. Minister of Mines Bill Bennett said his province should deal with the problem.
The mine, which closed more than 50 years ago, is leaking into a tributary of the Taku River. The fisheries-rich waterway empties into an ocean inlet about 25 miles northeast of Juneau.
Bennett Chief of Staff Cynthia Petrie says the minister has had several conversations with Tulsequah owner Chieftain Metals since his Alaska visit. She says no solution has been agreed upon.
She says discussions are ongoing and will include British Columbia's Environment Ministry.
Chieftain Metals plans to reopen and expand the gold, zinc and copper mine. It says it's put more than $100 million Canadian into the project.
Chieftain built and briefly used a water treatment plant at the site about three years ago. But the company shut it down, saying it was too expensive to operate.
Bennett and Chieftain cite studies saying the mine leakage is doing no damage. Critics say the studies were inadequate.
The Toronto Stock Exchange lists Chieftain's value at 5½ cents per share. That's about 1/100 of when it went on the market almost five years ago.