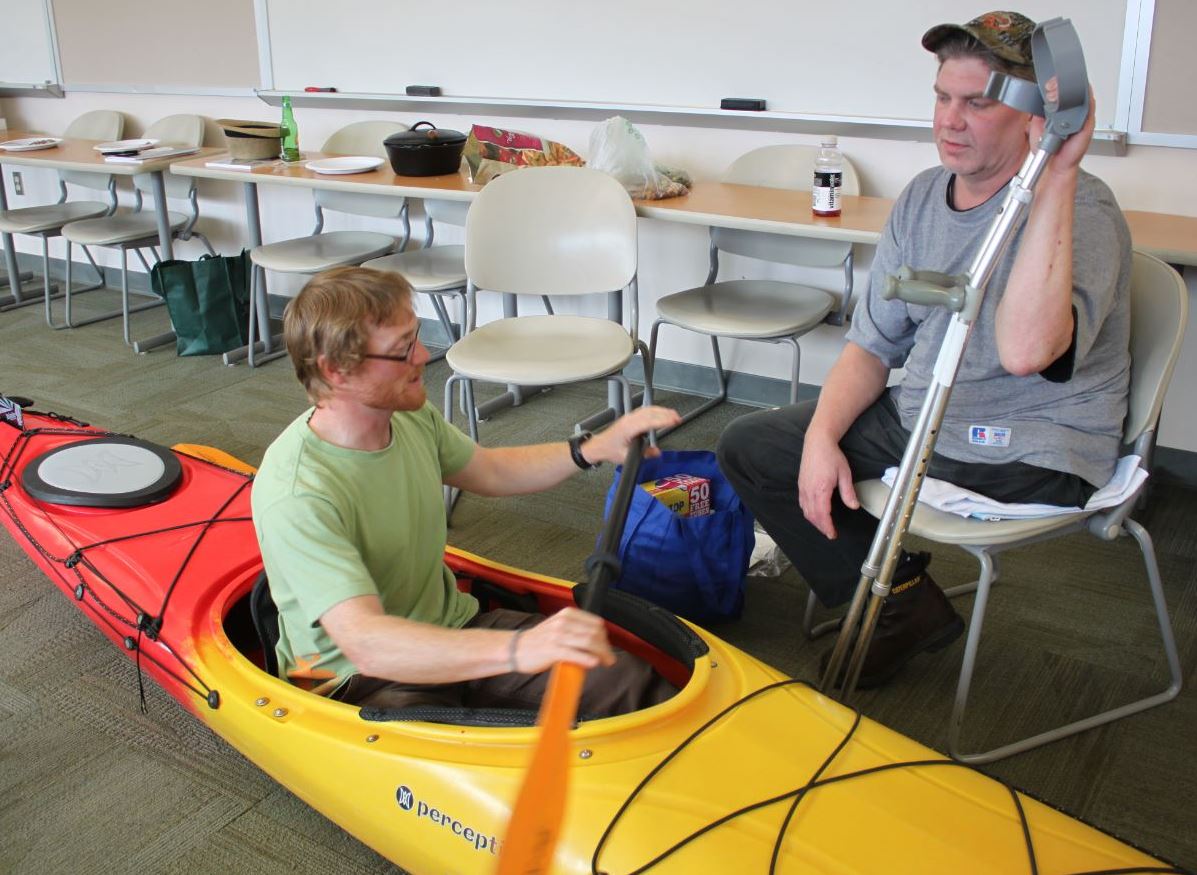 A spinal cord injury or amputation doesn't have to stop someone from being active on the water. A few Juneau instructors now have the know-how to modify kayaking equipment for people of all abilities after a training that wrapped up Tuesday.
J.C. Terrill gets into a kayak that's sitting on a classroom floor. ORCA volunteer Jerad Spencer and an Above and Beyond Alaska employee are helping him get familiar with the kayak, how it works and how it might be modified to accommodate his needs.
Terrill's left leg was amputated about 10 years ago after he was diagnosed with cancer. He said he had a volley-ball sized tumor on his spinal cord.
"It sucks, but you can't keep dwelling on it. That's no fun," Terrill said.
Terrill is 44 years old and a stay-at-home dad.
"I miss a lot of things though that I can't do, like snow skiing, working, construction. I loved it. I worked in fab shops, oil companies, chemical companies, didn't matter. Go out to the field, got to travel. It's not meant for everybody, but I liked it," Terrill said.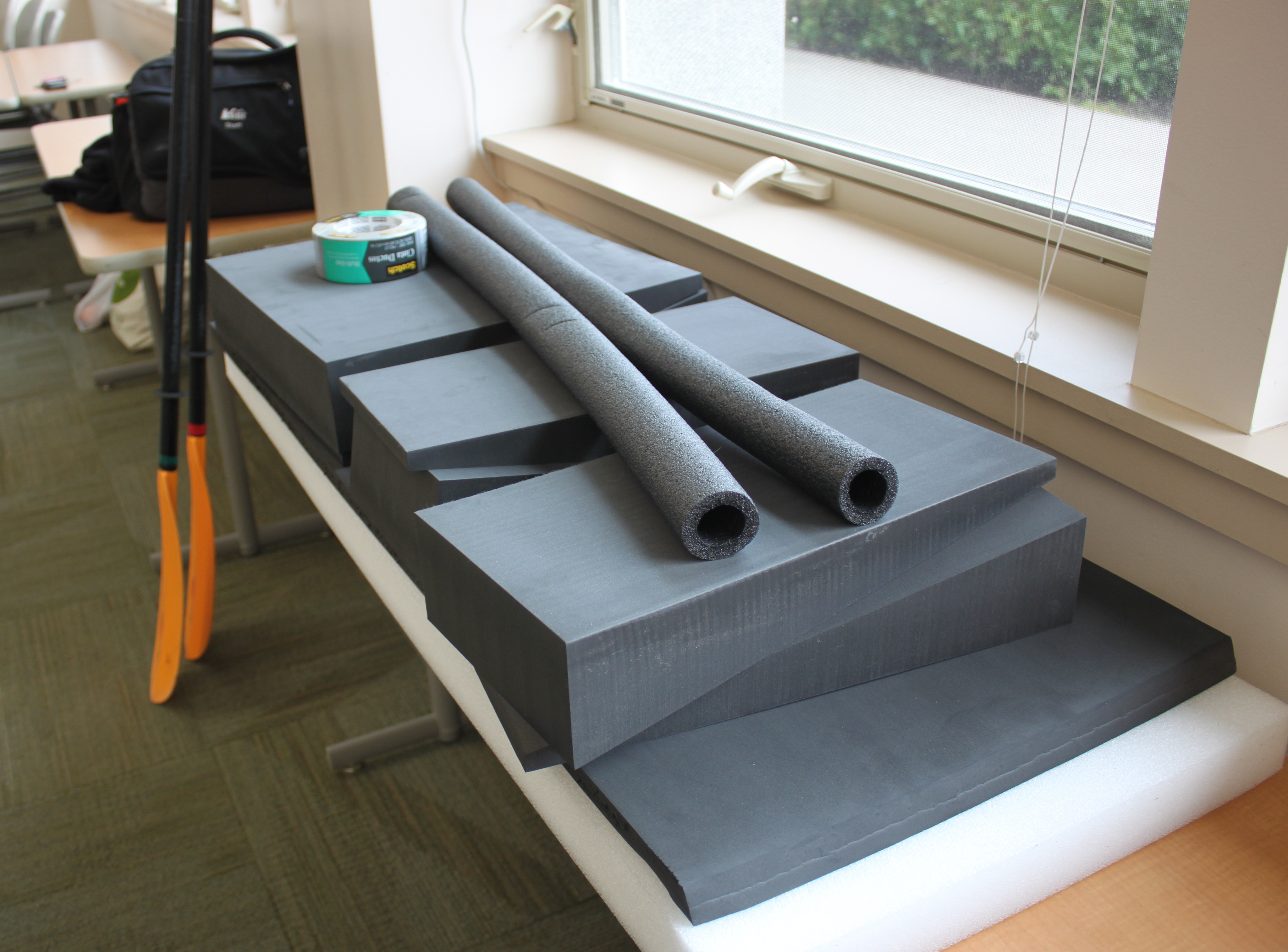 Being a part of this adaptive kayaking workshop is Terrill's first experience with ORCA, the recreation program of Southeast Alaska Independent Living. ORCA staff contacted Terrill about being a part of it and the opportunity to kayak.
"As soon as they said that, I was thinking, 'Yep, I'm going to take lightweight gear and go catch some trout,'" Terrill said.
With basic tools, the trainees have made a foam wedge, which they'll attach under the seat with duct tape.
Without his left leg, Terrill is constantly keeping his weight on the right side of his body. Spencer said it will make Terrill more comfortable.
"So that when he sits in there, he's level. The seat's nice and comfortable for him, but without it being shimmed, he's listing," Spencer said.
They may also attach water jugs on the left side of the kayak for weight distribution.
"If we put two gallons of water over here and we tie it on to the side of the boat, then it compensates for the missing leg," Spencer said.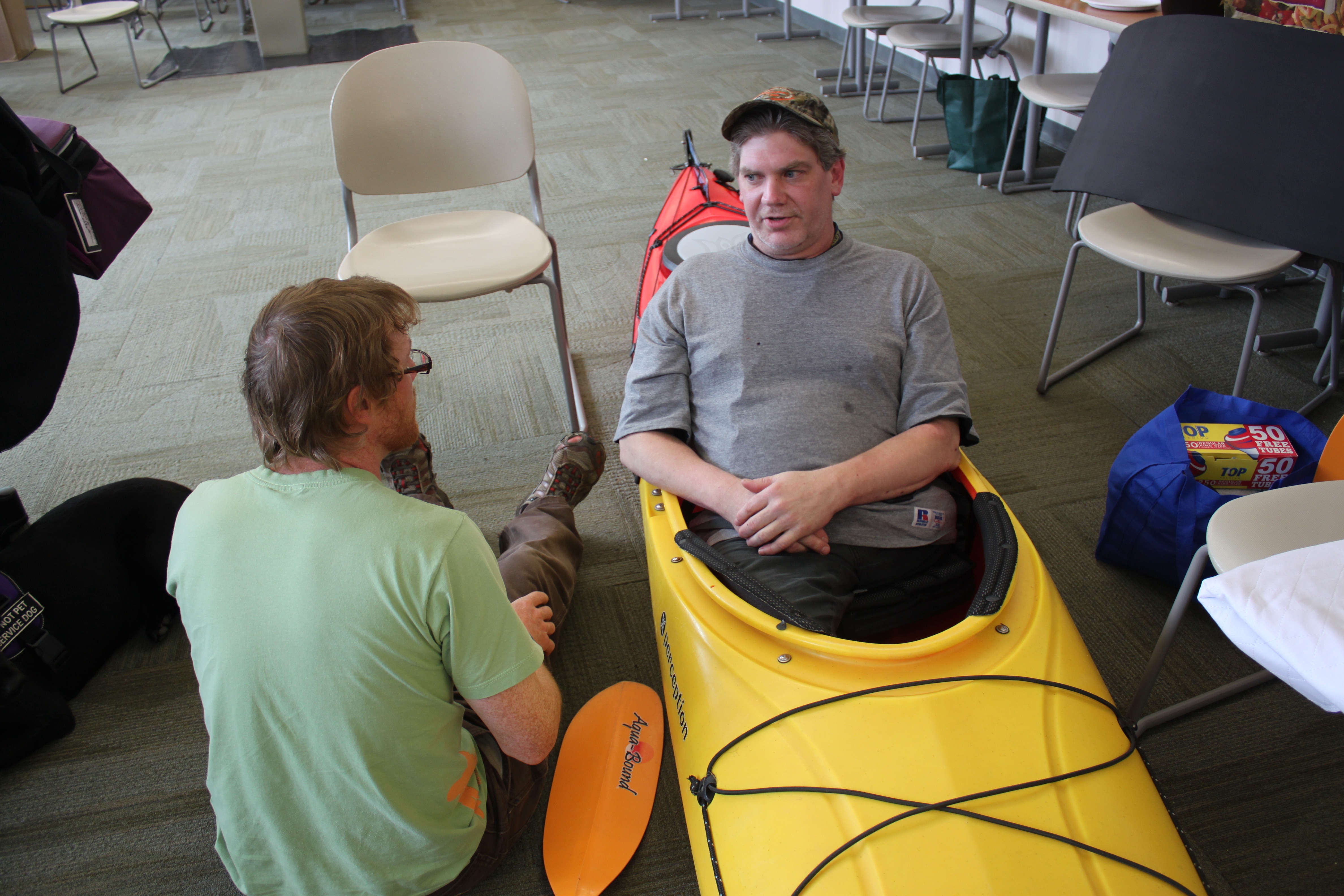 Modifying a kayak allows individuals of all ability levels to learn the same skills. Jeremy Oyen is an adaptive paddling educator for the American Canoe Association. He's leading the training.
"When you're out on the water, if they do it really well, you can't tell that the boat's been outfitted. We've always said that the water is the ultimate equalizer because when everyone's out there paddling, we're all just paddlers. It doesn't matter if somebody uses a wheelchair or crutches or they have a cognitive disability. When they're out there and they're paddling and they're having fun, we're all just part of that paddling community," Oyen said.
Oyen finds the process inspiring. He said it can change lives.

To get involved with adaptive paddling or other sports, contact ORCA by calling 586-0104.
"It lets people get back to an activity that they thought they couldn't do anymore, or just getting people out recreating and realizing that they can do this wonderful thing and go paddling in the ocean or the lake and see eagles and get back to just being and just really enjoying the outdoors," Oyen said.
After sitting in the kayak and hearing about the modifications, Terrill said he's excited.
"Yeah, this will work out. I didn't think so. I never thought of it. I didn't think I could be in a kayak," he said.
Terrill said it'll give him something to do in the summer with his son or friends.
"I can't sit in the sun and just sunbathe, I got to do something, like fish. I don't even have to catch any fish to have fun, just to be outside. I've always been like that," Terrill said.
Later that day, Terrill tried out the modified kayak in a pool. He capsized a few times, but remains undeterred.