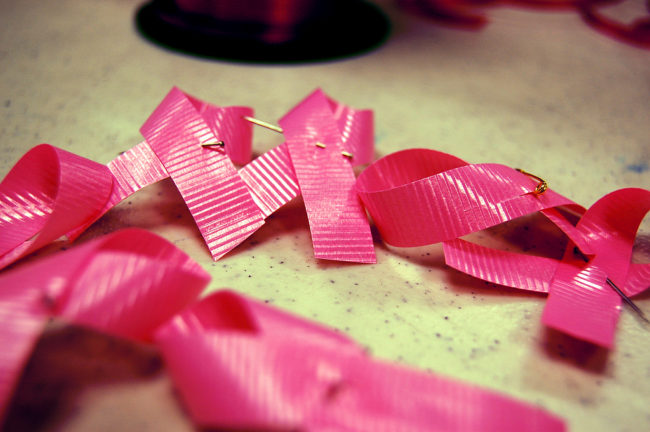 Karuna Jaggar wants to provide a counter narrative to the pink ribbon culture, also known as the "tyranny of cheerfulness." Jaggar is executive director of Breast Cancer Action, a national education and advocacy organization. She was part of a panel that toured Alaska called "What the Pink?!"
"Every fall an avalanche of pink-ribboned products hits the shelves. Americans can eat, drink, freshen their breath, pepper spray each other and shoot stuff — all to raise money and awareness for the fight against breast cancer. But Karuna Jaggar of Breast Cancer Action "isn't buying it," says Samantha Bee, a fake news correspondent on "The Daily Show."
The segment continues as Bee eats fried chicken out of a pink bucket and dips it into pink yogurt.
Standing at a venue in Juneau, Jaggar told the small audience where the pink ribbon came from. She said it originates with a woman in California named Charlotte Haley, "who was upset that so many women in her family and community were diagnosed with breast cancer and she was outraged that so little money went to research and prevention."
Haley started a peach-colored ribbon campaign from her living room. She sent out postcards with five ribbons attached, calling on the National Cancer Institute to allocate more money to breast cancer prevention. The peach ribbons caught on. It was early 1990s. The AIDS awareness movement was being propelled by the red ribbon.
Haley got a lot of national attention.
"SELF Magazine and Estée Lauder, the cosmetics company, heard about this and they had begun to do some breast cancer work and they approached her, wanted to partner, and she said, 'No.' They were too corporate for her," Jaggar said.
The magazine and the cosmetic company went with pink instead. It was then, Jaggar said, that the focus on prevention turned into a focus on awareness.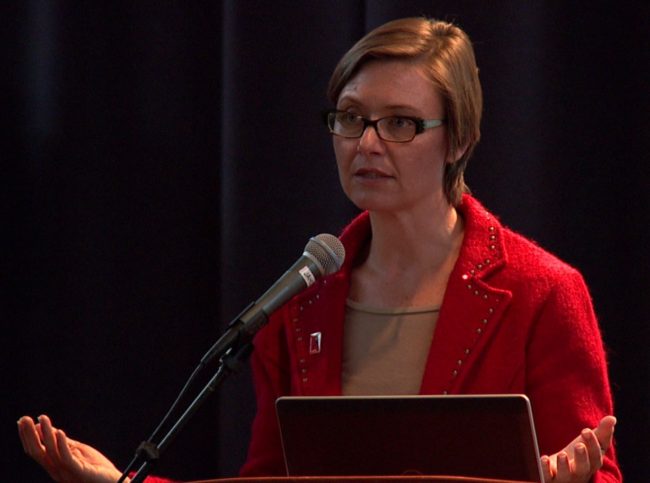 She said the pink ribbon has been used by the corporate world to sell products,
"It really binds together the cancer industry where the corporate polluters are bound together with many of the nonprofit organizations in a really vicious profit cycle," Jaggar said.
She said the pink ribbon culture tends to celebrate survivors and perpetuate the idea that women can beat breast cancer, "We're all told to be positive and fight and keep a smile on our face and look good, do those makeup tips, stay positive."
Jaggar says using the term survivor implies that those who died did something wrong.
"Are we telling them they didn't fight enough? Are we telling them they didn't have a good enough attitude?" she said.
One woman at the panel discussion said Jaggar changed her mind. "Up until an hour ago, I identified as a breast cancer survivor but I guess I'm going to change that. But when I would say that to people, they'd say, 'Oh congratulations!' and I didn't do anything."
Despite pink ribbon awareness, the rates of breast cancer haven't decreased — they've increased. And its cause is still largely unknown.
"The biggest risk factor is being a woman and getting older," Jaggar said.
Jaggar wants to flip the pink ribbon on its head and bring the focus back onto breast cancer prevention and not merely awareness.