British Columbia's top mining official says he's open to involving his federal government in transboundary mine conflicts. That's a change from earlier statements.
B.C. Mines Minister Bill Bennett went into this week's mine meetings saying the U.S.-Canada Boundary Waters Treaty wasn't the right place to address mining concerns.
The treaty would allow the countries to convene a commission to examine and resolve the potential for B.C. mineral extraction to damage Alaska fisheries.
Then, Bennett spent three days touring the transboundary Taku River and meeting with tribal, fisheries and environmental critics, as well as state lawmakers and officials.
At a Wednesday press conference with Lt. Gov. Byron Mallott, Bennet said he's more open to the idea.
"We think that we can resolve most of the uncertainties by working more closely with Alaska. I think you get more done at kind of the local state-province level. But I would not foreclose or dismiss the future opportunity to involve the federal governments if they can help," he said.
Mallott is actively pursuing federal involvement.
At the press conference, he said he'll lobby the U.S. secretary of state during his upcoming trip to Alaska.
"I will seek a meeting with Secretary Kerry in order to hopefully gain the commitment of the secretary that his department will maintain an awareness [and] will be ready to engage if and when asked, because we never know where this ultimately will take us," he said.
Mallott admitted a meeting is unlikely.
But he said he'll push for the State Department, which must initiate a request, to leverage involvement of the International Joint Commission, which addresses cross-boundary water issues.
Mallott and Bennett said their meetings were productive and built trust. Both brought up plans for a memorandum of understanding addressing exchanges of information and expanded Alaska involvement in B.C.'s permit system.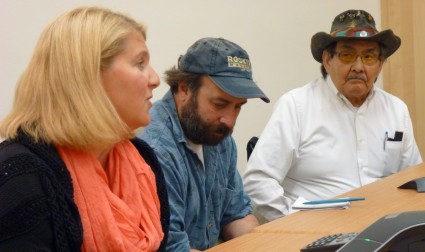 Mine critics, in a follow-up press conference, agreed that the meetings were a step in the right direction. But they weren't enough.
John Morris of the Douglas Indian Association and the United Tribal Transboundary Mining Work Group said a memorandum of understanding is no more than a formal handshake.
"We have to move beyond that and start getting something in writing [such as] a good, solid legal contract between our parties to prevent these kind of disasters from happening," he said.
Morris was joined by environmental and fisheries leaders.
Heather Hardcastle of Salmon Beyond Borders and Taku River Reds said she will continue pushing for both countries' federal governments' involvement.
"The International Joint Commission, to us, is the best forum …, with equal numbers of experts on both sides of the border, to look at what has gone on already in the region and what can go on in the future, given these proposed and operating mines," she said.
Hardcastle and others said they were encouraged by British Columbia's leaders' willingness to listen during the week's meetings.
They also praised the Mallott-Walker administration for opening up its own process to get a broader view of B.C. mining's potential impacts to Southeast Alaska.