Monday is the filing deadline for municipal election candidates to run in Juneau and no one has confirmed they're running for two seats on the Juneau School Board.
If no one's elected, the Juneau School Board will choose their new colleagues.
The seven-member board governs a district with an $85 million budget, about 4,700 students and nearly 700 employees at more a dozen schools.
As of Friday, school board incumbent Phyllis Carlson says she's still undecided about running again. Incumbent Destiny Sargeant could not be reached for comment, though she's previously said she's undecided.
Andi Story is an uncontested incumbent in a third seat.
Juneau Assembly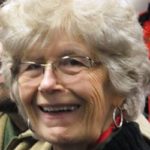 On the Juneau Assembly, the District 2 seat held by Jerry Nankervis is now a three-way race. Nankervis is being challenged by Dixie Hood, a marital and family therapist and active volunteer, and Jason Puckett, a GCI store manager, marshmallow entrepreneur and Marine Corps veteran.
Mayor Merrill Sanford and District 1 Assemblyman Loren Jones remain uncontested.
Candidates must collect at least 25 qualified voters' signatures. They also must file a letter of intent, a financial disclosure and campaign finance paperwork with the Alaska Public Offices Commission.
Write-in candidates have until Oct. 1 to file their paperwork.