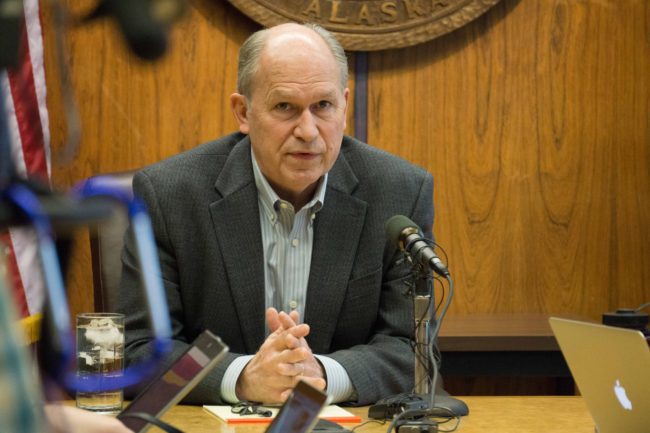 There are no state laws prohibiting workplace discrimination in the private sector based on gender identity or sexual orientation. Or against discrimination in housing and public accommodations. Or separate hate crimes.
The Alaska State Human Rights Commission and the Anchorage Equal Rights Commission do not accept LGBT discrimination claims; complainants are instead referred to the federal Equal Employment Opportunity Commission. The state commission does not keep track of these cases in their annual report.
State commission director Paula Haley and Anchorage commission director Pamela Basler would not go on the record during initial interview requests, and would not answer questions directly. They did not respond to subsequent interview requests.
This is despite the federal commission's recent interpretation of the Civil Rights Act of 1964, which says sexual orientation discrimination is the same as discrimination based on sex. The commissions are not legally obligated to accept LGBT cases despite EEOC's rulings and interpretation of civil rights law.
Gov. Bill Walker has stated, "It would be up to the Commission to decide whether or not the Act covers sexual orientation or any other class."
Walker has not given a direct answer when questioned about his position on LGBT rights. He's only stated that he believes marriage is between a man and a woman. When questioned further in this interview about his stance on LGBT rights, he still did not provide a direct answer.
KTOO's Lakeidra Chavis and Jennifer Canfield interviewed Gov. Bill Walker about LGBT issues on Aug. 11. This interview has been edited for length and clarity.
KTOO: During your campaign for election, you never gave a complete answer to questions about your stance on LGBT rights and same-sex marriage. Has that changed since then? Can you say YES or NO that you support equal protections for LGBT people?
Walker: I'm not sure I didn't give a complete answer on something. The answer I typically gave consistently was that I do support a traditional marraige and I also will follow the law that is in place and I follow the law that is in place regarding that. The Supreme Court has ruled that non-traditional marriage is to be recognized and that's what we recognize
KTOO: Do you support equal rights and protections for LGBT in Alaska?
Walker: I don't like any form of discrimination, at all. But I also respect the religious freedoms and rights of others as well, so it's a little bit of a dilemma for me. But again, I have pledged to uphold the law. The law currently in Alaska does not recognize LGBT as a protected class. On the federal side it is, on the state it's not — the statues do not call for that. So I can't go beyond the letter of the law and I don't get involved in that, there's a commission that does that.
KTOO: Have you reviewed the Alaska State Human Rights Commission to ensure that their priorities are in line with your administration?
Walker: I have not. I have not been reviewing their actions.
KTOO: Earlier last month when we first requested an interview, your spokeswoman Katie Marquette provided us with a statement, and in that you said, "this comes down to a legal interpretation of protected classes which is determined and enforced by the Alaska State Human Rights Commission."
If you stand by what you said, the state commission is actively deciding to not offer these protections. What are your thoughts on that?
Walker: They're a quasi-judicial body and they make the determinations that they make. As far as I know, they're following the law. If the legislature changes the law then they'd follow the law that was changed.
KTOO: Since 2001, the federal Equal Employment Opportunity Commission has made multiple rulings that sexual orientation and gender identity fall under sex as a protected class. Last month they made a similar ruling for the private sector. Do you think that these rulings are precedent enough for the law to be changed in Alaska and for our non-discrimination law to be updated?
Walker: I know the federal EEOC has adopted a broader interpretation and that's currently being sorted out in the courts. So I will stand by to see what the legislature does; it's not my intention to introduce any legislation on this particular issue.
KTOO: You said respected you the religious rights of others; it could be argued that you can discriminate against women based on some people's religious beliefs. Do you think those are two different subjects? Can they be interpreted the same way?
Walker: No, I think those are different. Gender is a protected class. So I think that is a different issue. When Alaska makes the change, and perhaps it will, then that would be similar. [For clarification later during the interview, gender identity is not a protected class in Alaska. Sex refers to someone's biological makeup and reproductive systems. Gender is a social construction that forms the social roles we associate based on someone's sex. Gender identity refers to how someone might identify — or not identify — in relation to their assigned gender. ]
KTOO: Do you think that the classification of discrimination based on sex is in opposition to some people's religious beliefs?
Walker:  I can't really anticipate various religious beliefs.
KTOO: We're trying to get an idea from you as to whether your administration intends to address this issue at all.
Walker: At this point, we don't intend to address this issue. That shouldn't be a surprise. I said that during the campaign. We don't intend to introduce legislation on these issues or other social issues. Our focus is on our economy, cost of energy, education. There's no secret about that. We will follow the laws that are enacted and that's what we've done. Again, it's not intention, nor have we, discriminate against anyone for any reason.
KTOO: It's estimated there are more than 19,000 LGBT working adults in your state, and they still face discrimination in the private sector, including housing and public accommodations; there are no protections against hate crimes. Why haven't these issues been addressed in your administration so far — because they affect a large amount of people in your state, who are also a part of the workforce and contribute to the economy?
Walker: Since we've been in office, we've been involved in the financial situation we are in the state. We've had multiple meetings with the LGBT community — once before the election and once after. We've certainly spoken frequently on the phone with them and members of that community. I certainly think we have a good relationship with them. They said they've never been invited to the governor's mansion for lunch. I think we had about 15-20 [people]. They don't always agree with me. I totally respect that. But one thing we do is try to continue to have dialogue and discussion, and we'll continue to do that throughout my administration.
KTOO: When I spoke to Paula Haley, executive director of the state Human Rights Commission, I had a very difficult time — same thing with Pamela Basler at the Anchorage Equal Rights Commission. LGBT discrimination issues are still a big topic on the national scene as well as in the state. There are still people experiencing discrimination to go, and they have nowhere to go to file those claims in Alaska, because they aren't protected from them. Do you feel that that this is an acceptable response that two directors of your state's human rights commissions have when being questioned about their practices?
Walker: Well, I don't want to be judgmental about what the Human Rights Commission is or isn't doing, but I will say we are working on that.
KTOO: What issues are you referring to?
Walker: The issue of having some venue to report, record circumstances where they feel they've been discriminated against.
KTOO: And what would that be?
Walker: That's what we're working on.
KTOO: Is there a timeline on when that might come out to the public?
Walker: No, not particularly a timeline, but we've been talking about since our last meeting with the LGBT community. When we had lunch — that was raised then. It was something that resonated with me. I've been giving that some thought and we'll be coming out with something. I'm not sure when but we've got some thoughts we've been discussing internally.
KTOO: I just want to make sure we're characterizing this correctly: nothing will change at the human rights commission but you are looking to create another system for people to log these complaints. Is that correct?
Walker: I wouldn't say another system, I listened to what their concerns were and we're trying to figure out some way their issues can be documented.