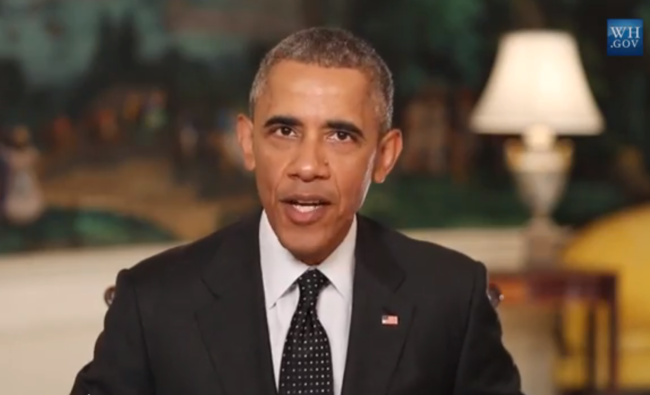 The White House released a video Thursday morning to explain why he will be the first sitting president to visit Alaska's Arctic.
The folksy video (it starts with the President of the United States saying, "Hi, everyone") features dripping glaciers, raging wildfires and Alaska Natives hanging salmon to dry.
"As Alaskan permafrost melts, some homes are even sinking into the ground," Obama says in the video. "The state's God-given natural treasures are all at risk."
In the video, the president says he's coming to Alaska because it's on the front lines of climate change, with lives and communities already being disrupted.
"What's happening in Alaska isn't just a preview of what will happen to the rest of us if we don't take action. It's our wake-up call," Obama says. "The alarm bells are ringing. And as long as I'm president, America will lead the world to meet this threat — before it's too late."
In Anchorage, Alaska Senator Lisa Murkowski said she hopes President Obama will keep his eyes open during his visit rather than come to Alaska with a predetermined agenda.
"I think we're all looking forward to welcoming the President of the United States to Alaska, his first official trip to see our state," Murkowski said. "It is somewhat disappointing, though, that he apparently intends to use this as nothing more than a backdrop for climate change."
Murkowski's fellow Republican, Rep. Don Young, used less diplomatic language in his press release.
"It is my hope that the president will use his visit as an opportunity to learn about the many challenges we face and not as a platform to pander to extreme interest groups using Alaska as a poster child for their reckless agenda," Young's statement said.
Young's statement described that agenda as locking up critical resources like oil, gas and minerals.
The White House video does not mention the administration's Alaska- and climate-related policy that has been making national headlines this summer: its approval of exploratory drilling in the Arctic Ocean.
With the Obama administration's blessing, Shell Oil began drilling last month in the Chukchi Sea. The company is hoping the Interior Department will approve deeper drilling into oil-bearing rocks any day now.
Environmental groups say the administration's green lighting of Arctic drilling just doesn't square with Obama's stated aim of leading the world in fighting climate change.
"It's a pretty evident contradiction," Margaret Williams with the World Wildlife Fund in Anchorage said. "It is absolutely clear that greenhouse gases are driving change in the Arctic, and to solve the climate problem, we have to be stemming the source of greenhouse gases."
Greenhouse gas emissions come primarily from burning fuels like coal, oil and natural gas.
International climate negotiators will meet in Paris in December. They'll try to agree on how fast to reduce those emissions. Their aim: keeping the earth's climate from warming more than 2 degrees Celsius.
A study this year by British energy researchers in the journal Nature found that climate change can only be kept under 2 degrees Celsius by leaving Arctic oil in the ground.
Sarah Erkmann with the Alaska Oil and Gas Association said the group has no reaction to Obama's trip yet, with the details of his agenda still being worked out.
"We'll have a reaction if he has any announcements that would impact the industry in Alaska specifically," she said.
Erkmann said AOGA has no position on climate change, though individual oil companies that make up its membership do.
Last week, Shell announced it was ending its membership in the American Legislative Exchange Council. A Shell spokesman said the energy giant would be leaving the anti-regulatory group because ALEC's opposition to action on climate change was inconsistent with Shell's approach to the issue.