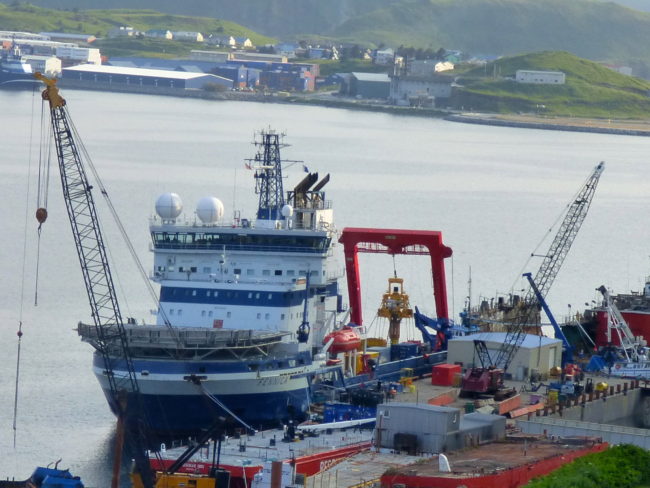 Shell's wayward icebreaker made it to the company's Arctic Ocean drilling site Tuesday. The arrival of the Fennica after a month's delay means the company could get to drill for oil beneath the Chukchi Sea this summer.
Currently, Shell only has permission to do shallower drilling into non-oil-bearing rocks off Alaska's northwest coast.
With the Fennica steaming toward the Arctic, Shell submitted an application to the Interior Department Thursday for permission to drill into deeper, oil-bearing rocks.
Climate-change activists are pressuring the Obama administration to reject Shell's application to modify its drilling permit.
The Fennica icebreaker hit a rock and tore a three-foot hole in its hull when leaving southwest Alaska's Dutch Harbor for the Arctic July 3.
The icebreaker then sailed to Oregon for repairs, where protesters blocked its path for about a day and a half.
Shell has to stop drilling by late September.
Federal inspectors are on board both of Shell's Arctic rigs.
Only the Polar Pioneer rig is actually drilling. It finished digging a 40-foot-deep cellar in the sea floor over the weekend for holding a blowout preventer.
Another key piece of oil-spill equipment, the capping stack, is on board the Fennica.
Shell had planned to have both its rigs drilling at the same time, 9 miles away from each other.
Federal officials rejected that plan in order to protect walruses from widespread drilling noise.
Even as Shell pursues oil in the Arctic, with climate activists nipping at its heels, Shell officials acknowledge that climate change is a problem.
Last week, Shell became the latest oil company to announce it would sever ties with the American Legislative Exchange Council. The conservative group tries to block government action on climate change and other issues.
"ALEC advocates for specific economic growth initiatives, but its stance on climate change is clearly inconsistent with our own," Shell spokesman Curtis Smith said in an emailed statement.
A study this year by energy researchers at University College London found that global climate change can only be kept to less than 2 degrees Celsius, as international negotiators have been aiming for, by leaving Arctic oil in the ground.