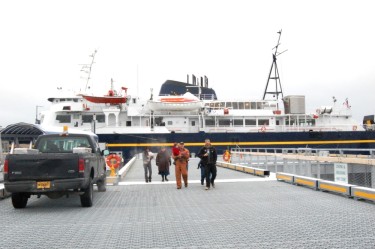 The ferry Aurora is out of service a week earlier than expected.
A small crack was found last week in its hull. The Coast Guard ordered repairs before resuming passenger service on its Prince William Sound route.
Alaska Marine Highway spokesman Jeremy Woodrow says the Aurora was sent to Ketchikan's shipyard, where it was scheduled for other work.
"The vessel was going out of service on Aug. 14 to enter its annual overhaul period. Because of that, knowing that we had to do some extensive repairs to the area where the crack was noticed in, we sent the vessel to Ketchikan to have those repairs done," he says.
The 38-year-old ship is scheduled to resume service in October. It's not yet known what caused the damage.
Woodrow says the crack did not immediately compromise vessel safety.
"It's large enough that water is coming through it, but it's not so large they couldn't sail the vessel down to Ketchikan from Prince William Sound," he says.
The Aurora connects Whittier, Cordova and Valdez. It sometimes sails Southeast routes, mostly filling in for its sister ship, the LeConte.
It carries up to 250 passengers and 33 vehicles.