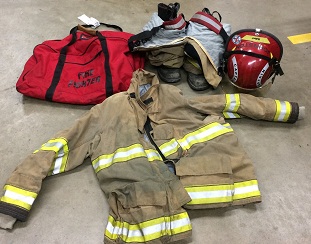 A local firefighter's stolen gear — including his red fire helmet — is the subject of this week's Juneau Crime Line.
The gear was taken from the firefighter's locked pickup truck.
"The suspect or suspects took firefighter bunker gear with a red fire helmet," the Crime Line announcement says. "The suspect also took about $3,300 worth of tools. The stolen tools include a Craftsman black took box filled with tools, a Milwaukee impact driver and heat gun, and a diesel compression kit, to name just a few items."
All together, the stolen goods were worth about $6,300. The theft occurred while the truck was parked around mile 15 of Glacier Highway the weekend of July 18 and 19.
Report tips to JPD at 586-0600 or at juneaucrimeline.com. You may be eligible for a reward.