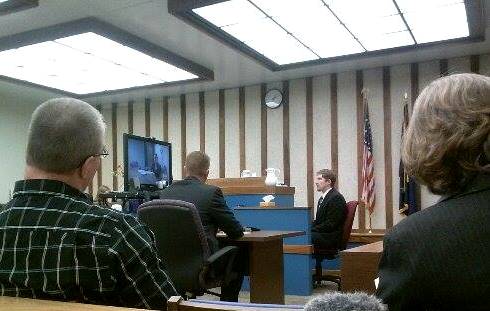 Testimony continued Wednesday in the trial of a Ketchikan man accused of sexually assaulting his 14-year-old stepdaughter, starting with the cross-examination of the now 16-year-old alleged victim. Fifty-year-old David Mason is accused of four separate counts of sexual assault on a minor. The trial in Ketchikan Superior Court is expected to last through Friday.
Some of the content of this report is of an explicit nature and may not be appropriate for younger audiences.
The alleged victim finished her testimony Wednesday, affirming that Mason did assault her.
Ketchikan Police Officer Charles Johnson testified next. Johnson talked to the alleged victim after the incident. He met the girl and her mother at the Women in Safe Homes, or WISH, shelter. He says the mother accused Mason of rape, and he found the daughter upset, "verging on hysterical."
"Really heavy crying, shortness of breath. I remember she was sitting on a couch, and one of her legs just had this, like a jackhammer, just bouncing really hard, really fast. [She was ] not able to answer questions right away. [She was] pretty distraught."
The defense questioned Johnson as to why he didn't separate the mother and daughter immediately. The defense insinuated that because the mother made accusations against her husband in front of her daughter, who has developmental disabilities, it could have influenced what her daughter remembered about the incident.
The girl also told the jury that she is easily affected by emotions of those around her.
Others on the stand included Sergeant Carlos Rojas, who also met with the mother and daughter and documented the alleged crime scene, and nurse Crystal Pennino, who examined the child. Pennino also collected DNA evidence to send to the state crime lab.
Forensic Scientist Jennifer Foster testified that Mason's DNA was found on the girl, and the girl's DNA on Mason. It is likely that the DNA on Mason came from the act of rape, but there is also a chance that it came from excess skin cells transferred by other means.
The defense claims that Mason initiated contact out of mistaken identity, thinking the girl was her mother after the girl climbed into bed with both the mother and stepfather that night.
The trial will continues Thursday with Mason as the final witness. After his testimony and closing arguments, the case will go to the jury.