There's been a big decrease in the number of gonorrhea cases in Southwest Alaska over the past five years, according to the Alaska Department of Health and Social Services. It comes after local doctors tried a new strategy, called expedited partner therapy.
When he moved to Bethel to take a job as an OBGYN at the Yukon-Kuskokwim Health Corporation in 2009, Dr. David Compton learned the region was having an outbreak of the sexually transmitted infection gonorrhea.
"I found out that not only did we have a very high baseline rate of sexually transmitted infections – gonorrhea and chlamydia – but we were seeing what we discovered to be was an epidemic of gonorrhea that the CDC was very concerned about and we were very concerned could develop into epidemics of other sexually transmitted diseases, like HIV," Compton says.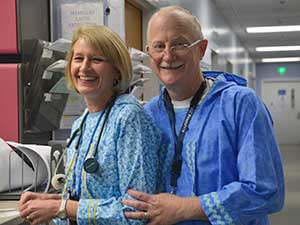 Until 2008, gonorrhea infection rates in Alaska were very low. In 2009 infections broke out across the state.
If left untreated, in women, the bacterial infection can result in pelvic inflammatory disease and serious pregnancy complications. It can lead to infertility in both women and men. Young people, 15-29, are more likely to be infected by gonorrhea because of their sexual behaviors. Alaska Natives are disproportionately affected.
The Centers for Disease Control and the state suggested something called expedited partner therapy; that's where instead of tracking down partners of infected people and trying to get them to come in for treatment separately, the doctor prescribes or gives the medication to the patient to pass on to their partners.
It took six to nine months, Compton says, to convince everybody involved that it was a good idea. They had to switch from the recommended medication, which is a shot to a pill, Compton says, in order to make it easier to deliver the medication, but it worked.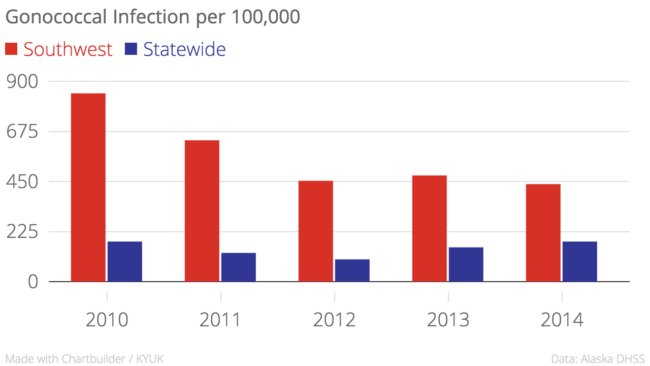 "What we found when we tried this was that the partners were treated up to three days faster and therefore they had sex with fewer people with the infection and we were able to decrease the rate of the gonorrhea," Compton says.
They reduced new infection by 48 percent in the Southwest region of the state over the past five years.
They also reduced the duration of the test-to-treatment time for the STI from nearly a week to just two or three days. Now expedited partner therapy has become routine at YKHC in Bethel. It's also available at village clinics and at the public health office.
That's something Susan Jones, who works for the state HIV/STD program, says was critical to getting the outbreak under control. Now it's becoming more available throughout Alaska, she says.
"It's something that has extended across the state in various degrees. One of the things that have helped this along is that the physicians in the state changed their regulations that allowed them to do prescriptions for individuals exposed to STD's. You don't have to see the person, but you can write a prescription if they've been exposed to gonorrhea," Jones says.
Jones says although the decrease in YK Delta Gonorrhea is hopeful, it's recently come to light that some is being missed in the routine urine test, so it's important to ask providers about additional testing, in some cases.
While gonorrhea is down in the region, Jones says the Southwest area, along with Northern Alaska, still have the highest rates of gonorrhea in the state and Alaska ranks number four in the nation for the STI.