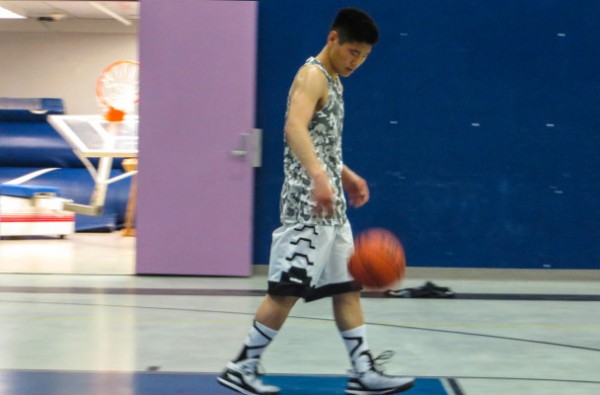 NBA point guard Derrick Rose was first scouted at his local high school and eventually drafted by his hometown Chicago Bulls. Sixteen-year-old Wallace Ungwiluk is a big fan of Rose — and a point guard too. But basketball could carry the junior from Gambell much farther from home — more than 2,000 miles to Seattle, where he's been recruited to play for a private high school.
This summer, Ungwiluk has a decision to make: stay home and try to win Gambell its first championship in 30 years or move to Seattle and get seen by college scouts.
According to Alvin Aningayou, there's nothing like a Gambell home game.
"It's a raucous, rowdy, exciting, electrified environment," he said. "When we win, you can feel the excitement and the buzz. And when we lose, you can feel their heart breaking just as our heart's breaking. It's just incredible."
Aningayou is coach of the Gambell boys basketball team, and he said it's Wallace Ungwiluk who has gotten the crowd going in recent years.
He is the team's captain, point guard, and top scorer. As a sophomore last season, he averaged over 27 points per game — nearly double the production of Gambell's second best scorer. And Coach Aningayou said he's just getting better.
"He's special," he said. "He started to shine, and he's continually trying to get better. And that's what we need — not having players settle."
Wallace was in Anchorage last summer for a basketball camp. He trained, worked on his game, and — for the first time — saw just how far basketball could take him.
"That was the first time I've really ever been coached or pushed that hard," he said. "I went to that camp not thinking I'd get much exposure there, but I actually did and I was quite surprised. This is a big opportunity for me."
That's the opportunity to move to Seattle, attend a private school, and play competitive ball. The offer comes from Seattle Lutheran High School, which had a solid postseason last year and is planning for a deep run in this season's state tournament.
But the offer comes at a critical time for Wallace and his hometown team. Gambell is looking to improve after a string of early exits from the Bering Strait School District's annual tournament. In the last two years, Gambell has been knocked out quickly, and Wallace wants to help turn the team around and contend for the title.
"I do want to stay here in this village and win a championship for this village, because it hasn't been done in about 30 years. But I'm not only thinking about my high school career," he said. "I'm also thinking about after high school. I want to play college basketball, and my best chance for that is getting exposure in Seattle."
Wallace said western Alaska is no hotbed for college recruitment, and he knows most scouts don't make it to St. Lawrence Island. Even after writing letters to 12 colleges and making a YouTube video of his highlights, Wallace isn't sure he can crack a college lineup if he stays in Gambell.
"No one's really heard of me," he said. "But Seattle — they've got colleges all around Seattle. They've got scouts there too. It gives me a better chance."
But Seattle would also be a big change. In Gambell, Wallace gets around on his four-wheeler, often with his 12-year old brother Skyley. He loves boating, snowboarding, and doing subsistence hunting with his family. His dad Rodney has home movies of Wallace's first whale-hunting trip, and his mom Yuka makes his favorite meal, walrus.
Life in Seattle would be different, and Wallace worries about being homesick, getting lost in a big city, and having to make new friends at school. But he takes pride in representing Gambell, and Coach Aningayou said he'll support Wallace whether he stays in Gambell or takes his talents to Seattle Lutheran.
"If he decides to stay, I think it's going to be a breakout year for Gambell," he said. And if not, "he has a chance of actually making a living playing basketball — something he loves. That'd be a great success for him. For the community also."
But either way, Wallace said he won't leave Gambell for good.
"I want to study business, and I want to come back out here to this village because the unemployment rate is super high," he said. "I want to be able to establish something where there could be jobs for everybody because it's hard to live out here. And that's one of the reasons that I want to go off to college and I'll be coming back."
Until then, Wallace will attend three summer basketball camps and think about his decision. His final stop will be Seattle, where Wallace and his dad will tour his prospective school and meet with the Seattle Lutheran coaches in person. He'll make his final decision after that visit.