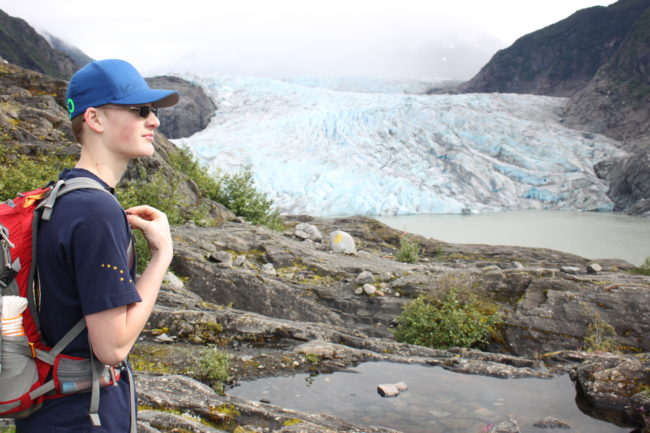 Up to 12 times a year, search and rescue agencies send crews out to the West Glacier trail area to find lost and stranded hikers.
A Boy Scout is trying to fix that problem, and teach about the glacier's history at the same time.
Colton Tersteeg, 15, grew up down the street from the West Glacier Trail.
"This is where I've hiked most of my life," Tersteeg says.
When he was an infant, his father walked the trail carrying him on his back. As Tersteeg got older, he'd hike the trail about a dozen times a year. Then, about two years ago, his family adopted a blue heeler.
"Ever since we got Buddy, I'm pretty sure I've gone almost every day, whether it's biking or hiking," he says.
Tersteeg is in the process of making his favorite trail safer and more educational. He's been a Boy Scout since he was 6. For his Eagle Scout project, Tersteeg is organizing and plotting a series of 15 signs. Each one will say "Glacier was here" with the date.
"And it'll be a big reflective sign and we're hoping to put a bar code on it so that if you have your phone, you can scan it and you'll be able to see a picture of where the glacier was," he says.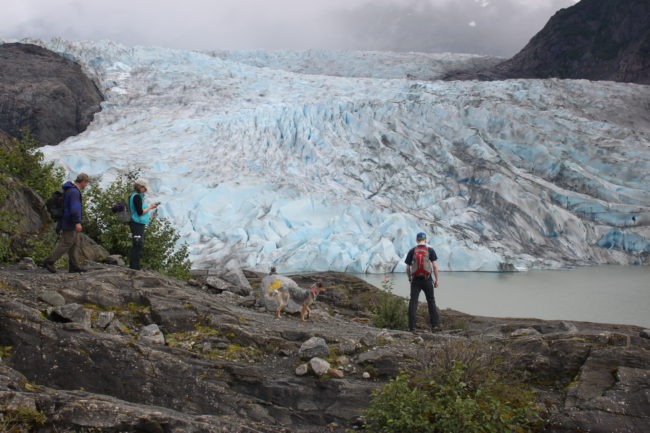 The signs could serve another purpose as well. Tersteeg hopes it'll cut down on the search and rescue efforts that take place in the area.
The West Glacier Trail is maintained by the U.S. Forest Service. But many people hike off the main trail to access the Mendenhall Glacier. They often end up on a rocky peninsula.
"A lot of the terrain looks very similar so it's easy to get disoriented," says Rich Etheridge, chief of Capital City Fire/Rescue. He says the city department is one of about a half dozen agencies that respond to emergencies in that area.
"It's one of our most frequent spots for search and rescues in Juneau," Etheridge says.
He says visitors to Juneau and locals go unprepared for the weather or the rough terrain, which can be very slippery and poorly defined. People get lost and injured. Etheridge has seen everything from an ankle sprain to a skull fracture. Rescue crews have airlifted, boated and walked hikers out of the area.
"We've had rescue crews where they've had to spend the night on the trail with the victim. It's not pleasant for anybody," Etheridge says.
He says Tersteeg's sign project could help.
"I think it'll speed up the time for locating victims and hopefully it'll also make people a little bit more aware of their surroundings," Etheridge says. "Yes, the Mendenhall Glacier is in our backyards, but it is still the wilds of Alaska."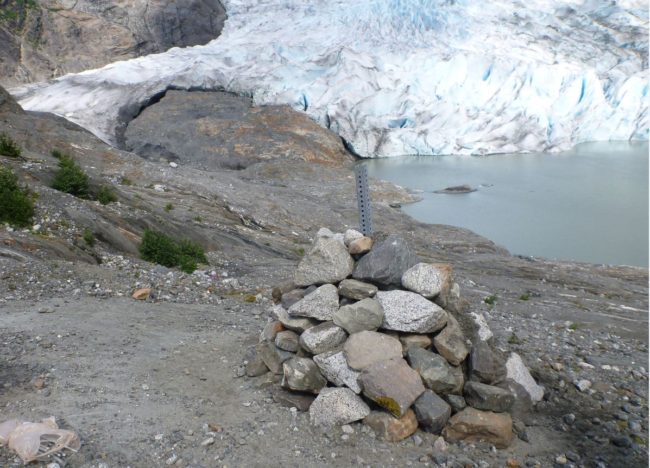 Tersteeg has been organizing the project all summer and has gotten a lot of help from community members. On Friday he and his parents hiked out to near the face of the glacier. They piled up a bunch of large rocks in four spots where signs will be planted.
That leaves 11 more trail markers to be built. Tersteeg says the signs will come later.
Editor's note: A previous version of this story misidentified Colton Tersteeg's rank in the Boy Scouts. Tersteeg is pursuing the Eagle Scout rank, but has yet to attain it. The headline and story have been corrected.