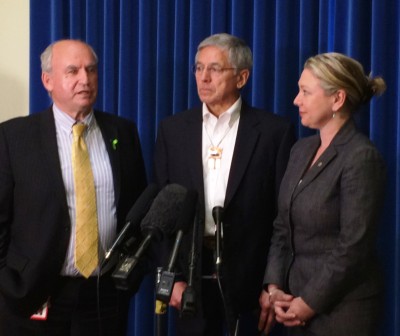 Alaska critics of British Columbia mines probably won't get any help from a cross-boundary panel they've asked to take on their concerns.
The International Joint Commission addresses U.S.-Canada water conflicts. Critics say it should take up the possibility that mines near the border will pollute rivers key to Southeast Alaska fisheries.
Lt. Gov. Byron Mallott says he spoke with officials during a recent trip to Washington, D.C.
"It was clear in my meetings with the State Department and the Canadian counterpart that they view this as a relatively local issue. [They said] that certainly the federal governments have a role, but essentially it is Alaska-B.C.," he says.
Mallott heads up a multi-agency task force considering the state's response to transboundary mine concerns.
He traveled to British Columbia in May to meet with provincial officials, as well as tribal and business leaders. One was Mines Minister Bill Bennett, who committed to a Southeast Alaska trip.
Mallott says that will be Aug. 24-26. He plans to school Bennett in regional economic and environmental issues.
"And to impress on him even more firmly the requirement that these transboundary rivers never have issues of downstream pollution and other degradation resulting from development on the B.C. side of the border," Mallott says.
The lieutenant governor and his transboundary mines task force will also host meetings of tribal, fisheries, tourism and other groups Aug. 5-6 in Juneau.
He says those attending will discuss their concerns and help develop policy.
"It is hopefully the beginning of a conversation and a set of relationships that will allow stakeholders to have a meaningful and timely voice," he says.
Mallott will also visit Whitehorse, the Yukon Territory's capital, for a series of meetings next week. He says he and Yukon officials will discuss fisheries, energy and related resource issues.
He'll also stop in Teslin, a Tlingit community about 100 miles east of Whitehorse, for its annual cultural celebration, called Hà Kus Teyea.