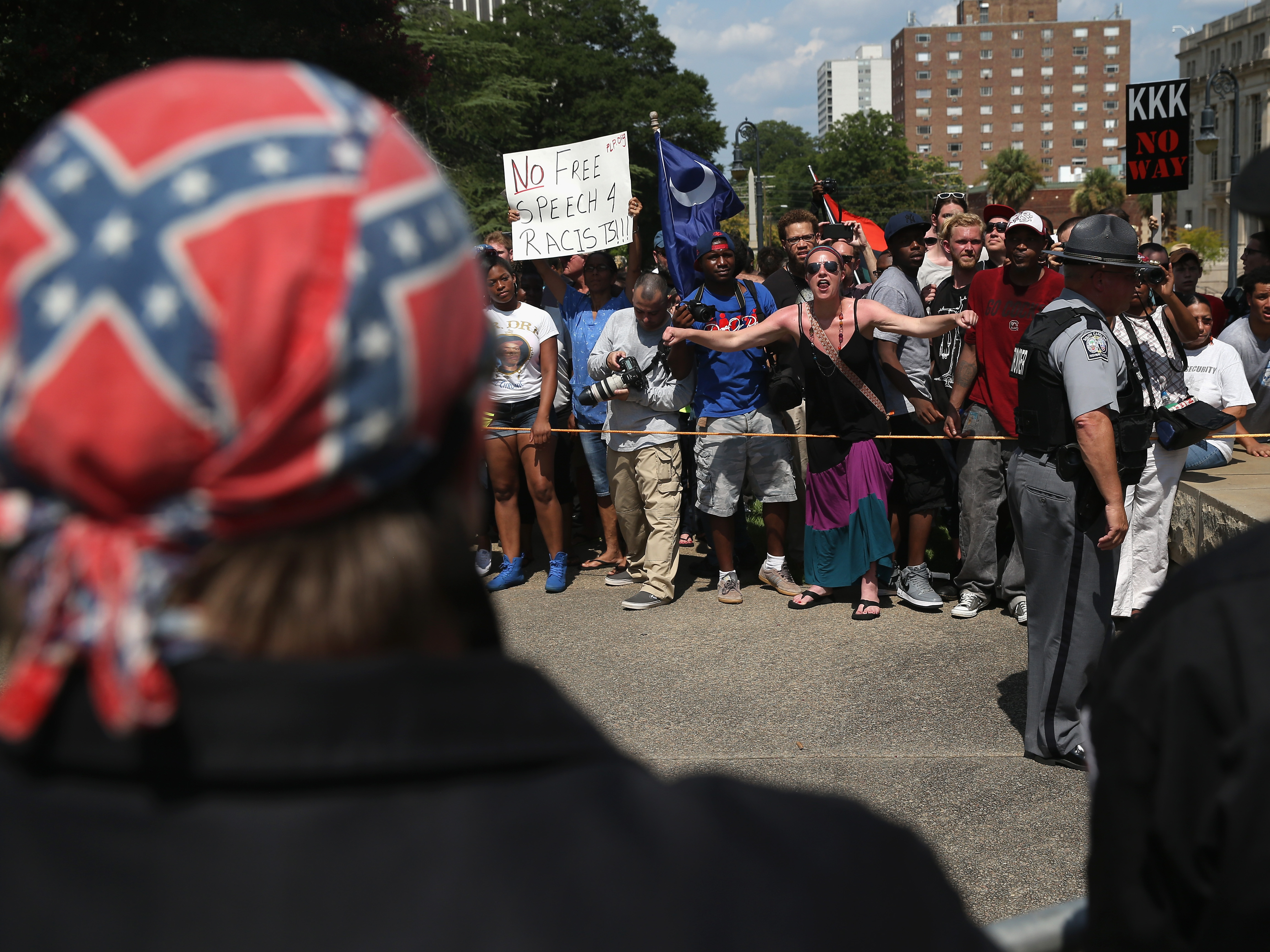 Last week, I wrestled with an idea that admittedly made me very uncomfortable: the possibility that for many defenders of racially loaded symbols like the Confederate battle flag and the Washington Redskins' brand, their affinity for these icons may be more understandable and — crucially — more relatable than many of us might like to admit.
"There are few symbols so inelastic and so static that they cannot be stretched to accommodate our own complicated, personal histories in ways that feel genuine and worth protecting," I wrote. "That's true even for loaded symbols like the Washington team's logo, and yeah, even the Confederate flag."
More than a few readers told me they were wholly unpersuaded — until they got to one specific anecdote in the story. It was about how a group of mostly black lawmakers in New Orleans quietly declined to change the name of New Orleans' first high school for black students, even though it bears the name of a notorious slave owner. It appears the school's name was spared because for many black folks in New Orleans who have passed through its doors in the generations since it was founded, changing the name would mean taking away some part of their cherished teenage memories. As I wrote, "It just happens that McDonogh 35 was named for a powerful racist, and so the solution seems clear: Pick something else, and move on.
"But for a lot of grads, it just wouldn't be the same, and that mattered beyond what seems practical. We all undertake the awkward mental gymnastics of making space for ugly cultural objects when they're familiar, when our personal memories are wrapped up in them."
Of course, acknowledging that those feelings are real doesn't mean that some symbols shouldn't ultimately be changed. It just means that those of us calling for their removal might do better to understand that for many folks, the "heritage" of something like the rebel flag is less about Stonewall Jackson and copping pleas for the Lost Cause and more about driving around in their first truck with Lynyrd Skynyrd in the 8-track deck. That doesn't mean the nostalgia-havers don't have to change some behaviors today. But it could help us have these conversations.
We talk a lot here at Code Switch about how, depending on where you are and whom you're talking to, the same objects and words can land very differently. That seems especially important to remember when debating whether the flag or the Redskins logo are racist or whether people can love those things in ways that aren't racist. The reality, though, is that both of these things are true at the same time.
Of course, that leaves the question: What do we do about it?
The Washington Post's Alyssa Rosenberg riffed on the ideas in our post at her blog on Monday. "Even though we might enjoy an old movie, feel pride in an old high school mascot or get a tinge of rebellious pleasure from an old television show," she wrote, "we should have the good sense to recognize that our most private reactions to powerful images aren't necessarily available to anyone else."
And when it comes to navigating these waters, Rosenberg offers a really compelling compromise:
"So how about [an] exchange of courtesies? One side grants that the other might have private feelings about the flag unrelated to a wish to restore the Confederacy or to revive and expand white supremacy. The other agrees to commemorate those feelings in private, or to confine its displays of historical emblems to historical contexts, including museums and perhaps Confederate cemeteries. A compromise such as this one wouldn't do all the work required to bring us to a shared understanding of American history. But it might help set the conditions to inch the conversation forward."
What do you make of Rosenberg's proposal? We'd love to hear from you in the comments.
Copyright 2015 NPR. To see more, visit http://www.npr.org/.
Read Original Article – Published 
JULY 22, 2015
11:44 AM ET