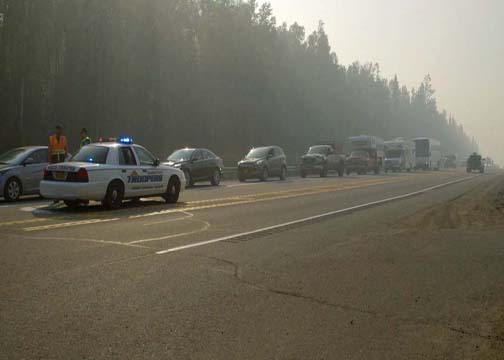 News that the Sockeye Fire was caused by negligence on the part of two Anchorage residents has hit the Willow community hard. Anecdotal evidence pinned the Sockeye Fire on fireworks, but now that it is known that an unattended, illegal burn pile sparked the blaze, many Willow residents are outraged.
Mahlon Greene is the Willow fire service area chief. He says the first crews on scene were there within five minutes of the call to find a fire spotting ahead of itself and spreading rapidly. He said no one in its path could survive a fire like that.
"The major concern at that point is to evacuate the area, get everybody out, and call in extra resources," Greene says.
"We had 90 degree temperatures and it was just super dry. Once that fire gets up into the trees and starts moving, it kind of creates its own weather, it causes the wind behind it, and it just spreads so rapidly, to try to get in front of something like that, it doesn't really matter how many fire trucks you have on scene, or how much water, you'd never want to get in front of a fire like that."
Anchorage residents Greg Imig and Amy Dewitt have been charged with multiple misdemeanors in the case. A burn pile on Imig's Willow property sparked the wildfire that drove residents from their homes and eventually destroyed 55 houses.
Vern Halter, who represents the Willow area on the Matanuska-Susitna Borough Assembly, says finding the exact cause of the fire is important.
"To me it's really important, because in the Miller's Reach fire 19 years ago there was speculation on what caused the fire … so I'm just glad they did the investigation," Halter says.
The cost of fire suppression alone tops $8 million dollars, according to the state Division of Forestry, and if convicted, Imig and Dewitt could be required to pay back twice that amount. But the costs to the borough have not been tallied yet, according to borough spokesperson Patty Sullivan.
Nickolas Spiropolous, Mat-Su Borough attorney, says he cannot comment on any legal action the borough may be considering.
Imig and Dewitt have been charged with one count of criminally negligent burning and three counts of reckless endangerment. Those are Class A misdemeanors, which are punishable by up to one year in jail and a $10,000 fine. Four additional misdemeanor counts have been charged related to their lack of burn permits. Arraignment for Imig and DeWitt is scheduled for July 28 in Palmer. Phone messages left for Greg Imig were not answered.
Assemblyman Halter says people who got burned out have the option of asking for a tax reassessment from the borough. Halter says the criminal element of the fire is out of the borough's hands
"All the charges and all the court procedure are going through the State of Alaska … There's due process requirements attached to the defendants, so that's just something you have to let go it's course, and try not to pre-judge too much," Halter says.
For the Willow fire service area, it may be a while before things get back to normal, according to fire chief Greene.
"We're out there catching hot spots every day. This fire took a month out of our lives and we are still on it."
Greene says a wildland fire the size of the Sockeye Fire taxes a small fire service area, and takes resources away from duties that need to be taken care of in the summer months.