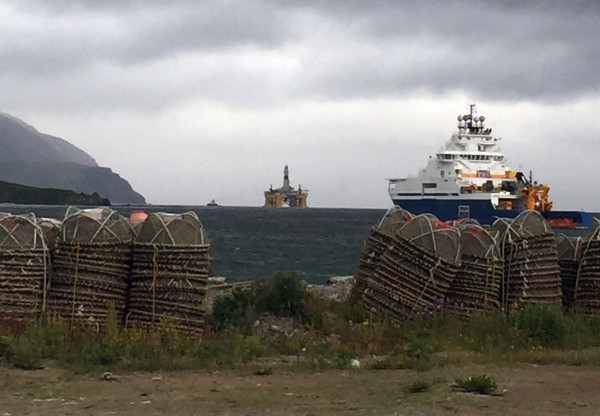 Billions of dollars worth of drilling equipment and support vessels operated by Royal Dutch Shell are sitting out in the Bay in front of Dutch Harbor this week. The company has plans to take most of that equipment north for exploratory drilling operations later this summer. Many of the local businesses are benefiting from the oil giant's presence.
Dutch Harbor is a busy place this time of year.
"The flights are all full, the hotel is full, vehicles – trucks for rent – companies that rent vehicles – they're all rented," says City Mayor Shirley Marquardt.
Marquardt says the bustle isn't unusual. She compares it to the uptick in business the community last saw when the pollock fishery took off in the 1980s and 90s.
"… And you had the big at-sea processor fleet show up, these big boats participating in this massive fishery and they're all coming into town and said 'we need everything,'" Marquardt says.
But this year, much of that business can be attributed to oil giant, Shell. Over the next two years, Dutch Harbor will serve as a logistics hub as the company carries out its exploratory drilling plans further north in the Chukchi and Beaufort Seas.
Spokeswoman Megan Baldino says 15 company personnel have been in Dutch Harbor for at least the last two weeks. Now that one of the company's drill rigs is moored in the bay just out front of town, Baldino says up to 35 people will arrive daily.
"On any given day the numbers could be lower or higher," Baldino says.
Because flights to and from the island are limited, the company has chartered flights with Anchorage-based Ravn Alaska. Charlotte Siegreen is Ravn's spokeswoman.
"It's usually around one or two a day for the next couple of weeks," Siegreen says.
Currently, only one commercial carrier provides regular service into Dutch Harbor. Siegreen says it's not yet clear if Ravn will also consider regularly scheduled flights after its contract with Shell ends.
"We don't have an immediate plans to make any scheduled service changes, but we're always looking. I can say that," Siegreen says.
With the influx of so many people, Shell has booked a block of rooms at the Grand Aleutian Hotel.
Lori Smith is the General Manger of Hospitality for Unisea, the seafood producer that owns two hotels in town. She says the oil company has been careful to relinquish rooms it is not using to free up space in a community where temporary housing is extremely limited. Marquardt says her administration has worked closely with Shell on that issue.
"We've been very up front and very honest with Shell from day one," Marquardt says. "If people are going to live here full time, if (they're) not going to hire people who live here to do the work, do not come into town and jack up prices and kick people out of their homes."
Marquardt says so far, housing prices have remained stable. She says it's she doesn't know how the job market might change.
"It's too early to tell," She says. "When they were here the last time they did hire a lot of local folks for security and logistics and running around."
Baldino says Shell hasn't yet made any direct local hires, but they have contracted with a number of local businesses.
"Thee are some areas where we bring in people who we have trained to really specific competency requirements, but in the future there are plans to train and utilize local staffing so we can meet those needs locally," she says.
The city doesn't have a system to attribute tax revenue directly to the oil company's presence, but city officials say they expect an uptick in revenue collected from both bed and fuel taxes.