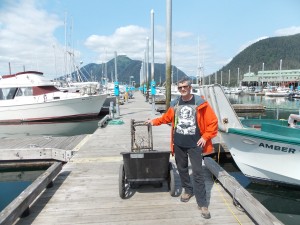 More fishermen are registered for the Southeast Dungeness crab season than the last six years. Nearly 200 have signed up so far.
One of those fishermen, Ed Crawford, is mending a crab pot on the dock of middle harbor. He's been fishing these waters for over 20 years but it's Dungeness crab season that really gets him going
"It's pretty consistent. I like the consistency of it," he said. "Salmon's a bit more of a gamble."
The season opened June 15th and already Crawford says things are looking up.
"It's been pretty good for us. It was really good the first day, as much as the boat could handle," he said.
But he knows his success won't become clear for a while yet.
"You can't really tell until you get a good 2 or 3 weeks in," he told me.
Kelli Wood, assistant Crab Biologist with the Alaska Department of Fish and Game office in Petersburg, backs up Crawford's opinion. She said often the catch tapers off after the first week but it varies greatly depending on where fishermen are setting their pots.
That means no one's really sure how this opening will pan out. Last year's season was better than average. It brought in over five million pounds of crab. Over the last 5 years the average permit holder earned over $18,000 in the Dungeness fishery.
The season for a fisherman like Crawford usually runs June 15 to August 15 and the fall season from October 1 to November 30 for most of the area. However, the exact length depends on how many crab are caught within the first week. The Alaska Department of Fish and Game expects to release the precise season lengths by Friday.