The crime rate in Juneau went down in 2014, according to an annual report released by the local police department.
Police Chief Bryce Johnson presented the report to the Juneau Assembly on Monday and noted that the underlying crime statistics show two clear trends.
"Property crime is down significantly, but violent crime is up," he said.
In property crime cases, Johnson said an ordinance the Assembly adopted last August to curb fencing of stolen goods through certain businesses has become investigators' primary tool.
"So on average, twice a month, the secondhand ordinance is the main reason we're able to clear a criminal case," Johnson said. "So from our perspective, it's an extremely successful ordinance. We're still working a little bit on the compliance part for some secondhand dealers. But it has been as productive or more productive than we actually thought it would be. It's really helping us to clear some crimes."
Since it took effect in September, Johnson said the ordinance has led to recoveries of jewelry, electronics and firearms in 11 separate cases.
The ordinance targets shops that buy and sell secondhand goods and is similar to state laws requiring pawn shops document and hold inventory.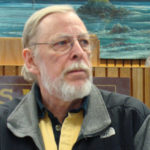 Assemblyman Loren Jones said jewelry taken from his household ended up in the new system.
"When the police officer was in our entryway getting the information from my wife, a picture of the pawned item showed up on his phone. So she could identify it. It's now sitting in the PD's property," Jones said. "It worked as it was supposed to."
A massive spike in heroin seizures also drew attention. Police seized $4.7 million of heroin in 2014, about eight times more than in 2013. Meanwhile, OxyContin and oxycodone pill seizures fell to about 1 percent of 2013 levels.
Johnson said the spike in heroin seizures is likely driven by addiction, and partially from increased police presence at the airport. Juneau police replaced private firms for round-the-clock security at the airport in October 2013. The airport is a primary point of entry and hub for regional trafficking.
Another trend Johnson mentioned to the Assembly was the use of body cameras.
"Every agency in the country is trying to get body cameras right now. So I may come back at some point to talk body cameras. It's the future; I don't see how we don't go forward with that," he said.
Finally, Johnson also noted that the department had lost its professional accreditation because the credentialing organization it used no longer exists. The department is seeking a new credentialing agency. Accreditation essentially means that a third party can verify that a department meets professional police standards.