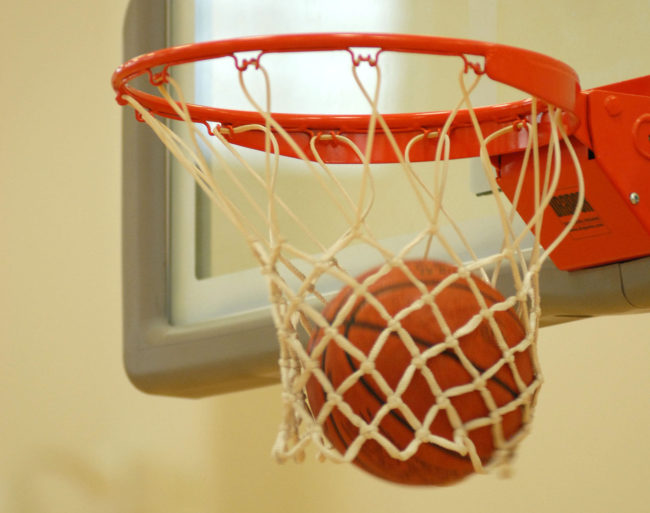 Kids from several villages and Fairbanks are gathered in the Yukon River community of Tanana last weekend for a basketball camp that seeks to do more than just help young people brush up on their bucket skills.
The training is being conducted by Damen Bell Holter, a young man who grew up in Hydaburg, played basketball in Ketchikan and knows well the struggles some kids in rural Alaska experience. Cynthia Erickson got the event lined up. She lives in the Athabaskan community of Tanana and works with young people struggling with abuse and addiction in their families. She says 40 kids are attending from Manley, Fairbanks, Anvik, Tanana and other communities.
"So it's just an inspiring opportunity for all these kids and everything they've heard about Damen and his camps is just really positive," Erickson said.
Erickson says she was pleased with the high turn out which is more than the entire student body of the Tanana school. She says Damen heard of the presentation that young people from Tanana made to the AFN convention in Anchorage last year. They spoke out about the pain of dysfunction in their families and communities and he reached out to Erickson, wanting to help.
Holter played for the Celtics and now plays for a team in Turkey. He started sponsoring the camps to help kids know they can aspire to better outcomes for their lives. Erickson says during the weekend they'll hand out pledge cards that ask kids to honor and protect themselves and others and stand together to stop suicide.
"On the back of it, it has ' need help keeping your pledge, contact the care line and then it has the 800 number on it, so we hand that out at all of the things that the kids go to," Erickson said. "And we tell 'em, put your name on there, take that pledge and if you have trouble there's a number on there to call."
Erickson formed a 4H group to start getting kids into positive activities but she said some are dealing with such trauma, cutting themselves or contemplating suicide, that she instead formed a non profit called, My Grandma's House.
She says the idea that it's bad luck to talk about suicide is wrong. Erickson says it must be discussed and that won't promote more self-harm but she prepares the young people she works with for the prospect of future suicides.
"It's not because we've started talking about it. We're saving…if we lose one, that's a day we'll have to deal with but we really are changing the way things have been."
She says there hasn't been a suicide in Tanana in five years, but she's dealt with more than that number in her own life and the Trooper shootings in Tanana last year took a heavy emotional toll on the community. Erickson says she tells the kids, it took decades of dysfunction to get to this point and it will take time to turn it around, but she stresses it's not difficult to help kids feel better about themselves. It doesn't take money, it takes time.
"We'll be picking berries or cutting moose meat or jarring fish, they're just tickled to do anything and they feel so good, they bring their jam home or we do raffles and they do a little jam basket and they just enjoy the time and the learning and that's the whole missing link is, the key to this is family and time," she said.
Erickson says the Damen Bell Holter's basketball camp will work with elementary kids in the mornings and high school kids in the afternoons through the weekend. In the evenings, a community picnic, swimming, tubing and spaghetti feed are also planned.