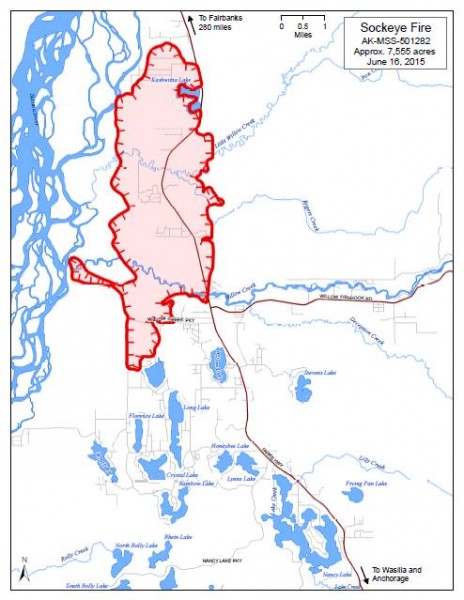 The Sockeye Fire burning north of Willow is now the number one priority fire in the country. At least 400 firefighters will be on scene by the end of Tuesday.
Fire information officials held a parking lot press conference at Houston High School, which is serving as the command post, this afternoon.
Tom Kurth, Sockeye fire incident commander, said crews coming in are attempting to gain a safe anchor at the north end of the fire and begin offensive action.
He said the fire – which started Sunday afternoon – is advancing on three sides; the eastern perimeter, the northwest corner and the southern tip.
"We still have a lot of potential for the fire to move," he said. "However… t least we're getting familiar with what it's going to take to try to slow it down. There are a lot of structures still at risk, there's a lot of values inside the perimeter so those are of upmost concern."
Kurth said the priority is to protect structures, protect the railroad, and keep the Parks Highway open. Kurth said the number of structures destroyed has grown, as well.
"There's somewhere between 50 and 100 structures that have been lost. That's a very loose survey that's been done by drive-by… but I do want to qualify that a structure could be as small as 40 square feet." Structures could include greenhouses and even some chicken coops.
Kurth said firefighters who have been working so far are reaching fatigue limits, but new crews that had just arrived would soon be on scene.