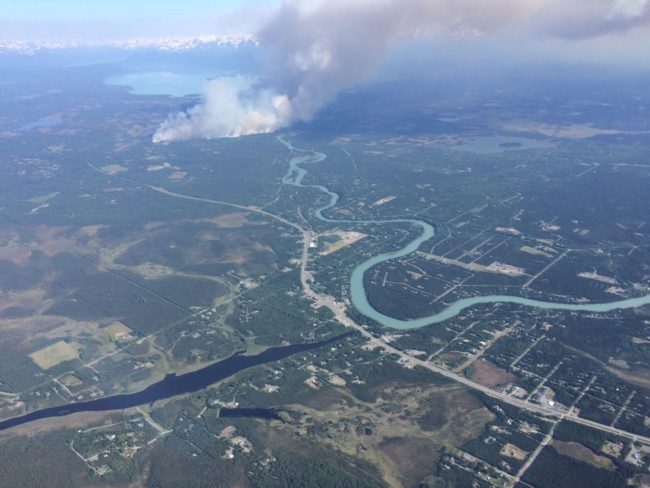 The Card Street Fire near Sterling on the Kenai Peninsula doubled in size overnight. Now at more than 1,200 acres, the fire has destroyed at least six structures. Division of Fire spokesperson Tim Mowry says it's burning mostly through spruce.
"When something's burning in spruce like that, it grows quick and by the time our guys got there it was torching and crowning and that's a fast-moving fire," he said.
The fire was called in sometime after 1:30 Monday afternoon. Initially, it was a small grass fire, about an acre in size, but in a place that was only accessible by 4-wheeler.
The Kenai River borders the fire to the south, the Sterling Highway to the north and Skilak Lake to the east. Evacuations of several neighborhoods continued through the evening.
Division of Forestry Spokesperson Andy Alexandrou says the fire has expanded south, following wind patterns, since it started. Overnight, it spotted across the Kenai River, but hasn't jumped. But a shift in the wind, pushing it east toward wetlands late last night helped responders protect residential areas.
"It started north, up by Aspen Lane and Cottonwood Lane areas, adjacent to Feuding lane and has burned to the south and southeast, and a bit to the southwest of its point of origin," he said.
According to the Alaska Interagency Coordination Center, seven additional response teams from around the state and outside are expected to arrive today.
Late last night and into the wee hours this morning, community members have been mobilizing independent relief efforts- using social media to coordinate camping space for families to shelters for horses and smaller pets.
At the Sterling Community Center, things were quieting down around nine o'clock Monday night. Rochelle Hanson works there. She says so far, people seem far more concerned with how to help than with the actual fire.
"Everybody's been coming and signing up horse trailers, boats, heavy equipment, I have a 5th-wheel, I have this, I have that. It's pretty amazing to see how this little community pulls together," she said.
The community center was one of two designated places for people evacuated. The other is at the Soldotna Regional Sports Complex. Helicopters were being used to try to keep the fire from jumping the Kenai River. Ground crews from the Kenai Peninsula Borough were first to respond.
No injuries due to the fire have been reported.