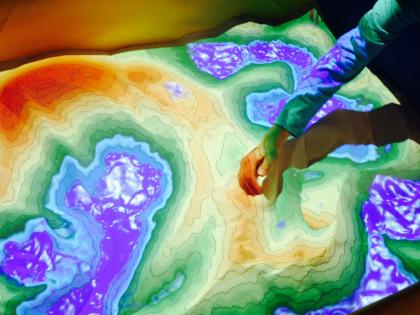 I arrived at the discovery lab before any of the school groups. But when I walked in, I realized the kids wouldn't be the only ones fascinated by this sandbox. The adults setting up the lab couldn't walk by it without reaching in to play with it.
"This thing begs you to stick your hands in it," says Alana Vilagi.
She's right; it really does, because this is no ordinary sandbox. From mountains to rainstorms, this sandbox can bring the natural world to life. When you put your hands into it, and move the sand around, a topographic map projected onto the sand changes. So if you pile the sand up, the topo map shows a mountain, if you dig it out, you get a valley.
This is the senior design project she completed with fellow students George Stevens, Austin Hunt and Cody Klingman for the College of Mines.
"We loved it. When we first saw it, our meeting was just to talk about the sandbox, but I think the whole time we had our hands in the sand," says Vilagi.
The project had to be a physical model of some sort; it couldn't just be an idea. So they decided to modify the augmented reality sandbox for use in classrooms.
"The first version that we were shown was fixed," says Vilagi. "So, it's a lot harder to take apart. It's not really designed to travel. This, we have a big case for it. It folds down to like a quarter of the size.  And I envision this going to rural villages, traveling all over the state."
But what exactly is the purpose of a tabletop topo sandbox aside from being really awesome and way too much fun to play with?
"Well you know, what I think this sandbox is particularly helpful for is showing us a relationship between something flat, like a two-dimensional topographic map and then the real, three-dimensional topography that that map is trying to represent," says Eric Stevens, a science liaison for UAF. "Mostly I work between the university system and the National Weather Service with regard to weather satellite imagery and data."
Today, his job is to help explain to visitors the technology that makes this sandbox special.
"There's an arm extended well above the sandbox. It's got a couple of gadgets on it. One of the gadgets pointed from this arm down onto the sand, is a Kinect from a Microsoft Xbox, the video game console," says Stevens.
Kinect sensors were first released for Xbox in 2010. They allow players to interact with games without a controller. The Kinect uses a webcam-type device that senses a player's motions and responds to them, says Vilagi.
"The way that the Kinect sensor works is it has three different lenses. One of those lenses projects an infrared grid onto the sand. The other one is able to interpret the levels of the sand, based on how the grid is rising closer to it. And then the projector projects a topographic map onto it; it projects those levels."
It uses a special, light-colored fine-grain sand to register the image. But, Stevens says, it doesn't stop with the ground.
The sensor is programmed to register several inches above the sand as the atmosphere. So, if you hold your hand there, the Kinect reacts by "raining" underneath it, as if it were a cloud. The water then follows natural paths down the mountains and forms lakes on valley floors.
"If you put your hand in the water, it'll react, it'll splash," says Vilagi. "If you put an object in, it'll displace the water. It can sense there's a volume to the object."
And water systems education was the purpose of the first sandbox, says Vilagi. It was built by researchers at the University of California, Davis Keck Center for Active Visualization in Earth Science. Then, it was adapted in-state by the Geographic Information Network of Alaska.
Stevens says he sees the dynamic sandbox as a priceless teaching tool for kids and adults alike.
"And I wish that 25 years ago, when I was in meteorology 101, that they had something like this to help me understand what we're depicting when you look at temperature contours on pressure maps and all these intersecting lines and such," says Stevens.
That's the point says Vilagi. It's great for getting students engaged with the world around them and it's so easy to set up, any educator can use it. She says there are plans for the sandbox to travel around Alaska, with a focus on getting to rural villages.
"One of the biggest attractions is this isn't going to be something that sits in somebody's garage after we're done graduating," says Vilagi. "This is going to be something that lives on after we're done. That was really important to me."
Vilagi and her group are now constructing a second sandbox that will also make its way across the state.