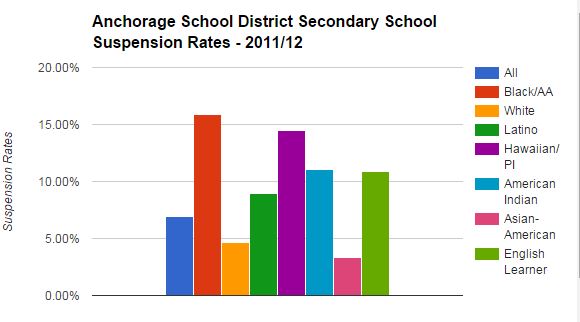 The Anchorage School Board passed the first reading of a new suspension policy Monday evening, but they plan to delve deeper into the issue later this summer.
The new suspension policy requires teachers and administrators to provide parents and guardians with a "brief statement of facts" about why the student was suspended. Previously the letters home only included coded reasons for the suspensions.
School Board member Eric Croft says the new policy is not in response to the litigation against the district, which argues ASD needs to provide more details to families when students are suspended.
The first reading of the policy passed unanimously, but it must go through a second reading in two weeks.
School Board member Pat Higgins says the revisions of the suspension policies will not end here.
"Suspensions right now are too much attributed to a discipline as opposed to a constructive move to make the child more successful," he said.
Higgins recently attended a conference on suspensions and says studies show that suspensions are not always the fault of the student.
"Most of the time the suspensions are directly related to the teachers as well and the connection they don't have with the student," Higgins said. "So when you look at some of the reasons why kids are acting the way they are, the interaction isn't there, the connection isn't there, and that contributes to it."
The district's Multicultural Advisory Committee and Special Education Advisory Committee plan to present suspension policy recommendations in August, says Starr Marsett, who sits on both committees.
"School board members should be leading the charge to reduce the practice of out of school suspensions and instead push comprehensive strategies for preventing the removal of students from schools or classes or placing them in alternative schools," she said during the public comment period.
Data compiled by the Center for Civil Rights Remedies for 2011-2012 show that African-American secondary school students are about three times more likely to be suspended than white students in the Anchorage School District. The same is true for Hawaiian and Pacific Islanders. Students with disabilities are twice as likely to be suspended.