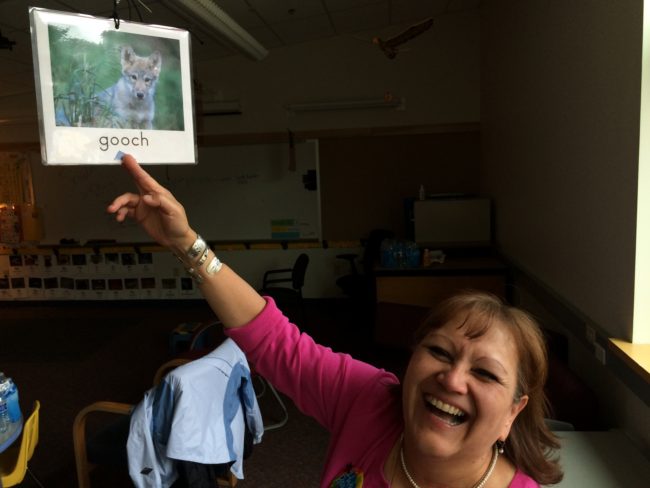 Kitty Eddy has been a driving force behind the Tlingit Culture, Language and Literacy Program at Harborview Elementary School since its inception. This week, she's retiring after 31 years of teaching.
It's the last day of class in Eddy's combined kindergarten and first grade classroom. You'd think it'd be hard to gather the students, but it just takes counting down from five — in Tlingit.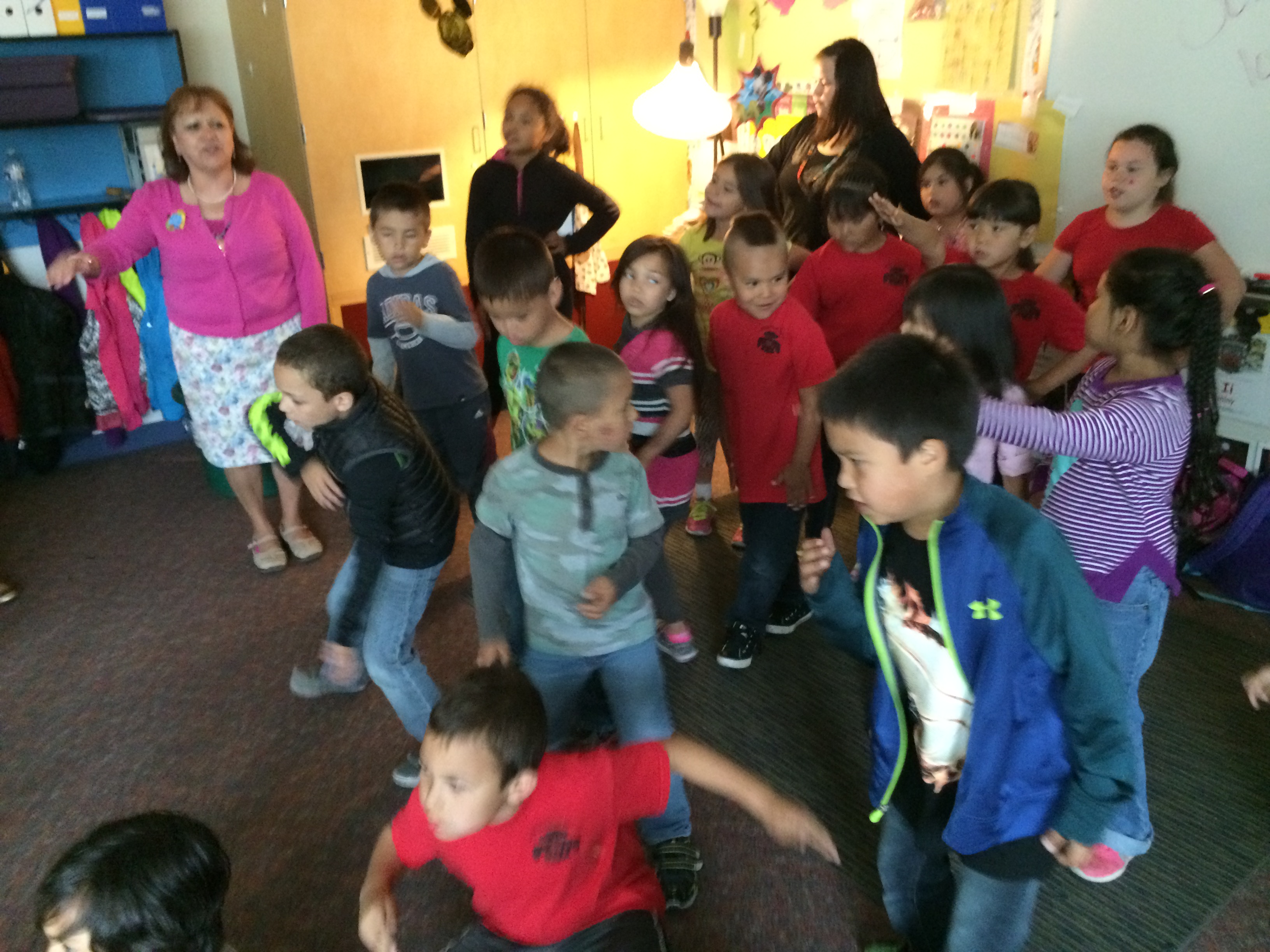 "Keijín. Daax'oon. Nás'k. Déiý. Tléix'!" Eddy says in a patient yet stern manner as the students move to the front of the class to sing and dance.
The program, which began in 2000 with help from a federal grant, is a collaboration between Sealaska Heritage Institute and the Juneau School District. The two founding teachers were Eddy and Nancy Douglas.
"That first year was lot of work," says Eddy who is Tlingit, Yanyeidi (clan). "We worked every single day to try and pull together a classroom that was different than the normal classroom that was based on our culture."
The program has since grown to include all the elementary grades at Harborview. While the majority of the students in the program are Alaska Native, any student interested in Tlingit culture and language is welcome.
The immersion classrooms are similar to other classrooms in that they do required math and reading, but there is a difference.
"We really build a family unit so that you have a group of children who come in and want to be here and that they belong," Eddy says.
Eddy engenders the family approach with help from elder Selina Everson and language specialist Jessica Chester, among others. Chester was born and raised in Juneau and is grateful for what the program is doing.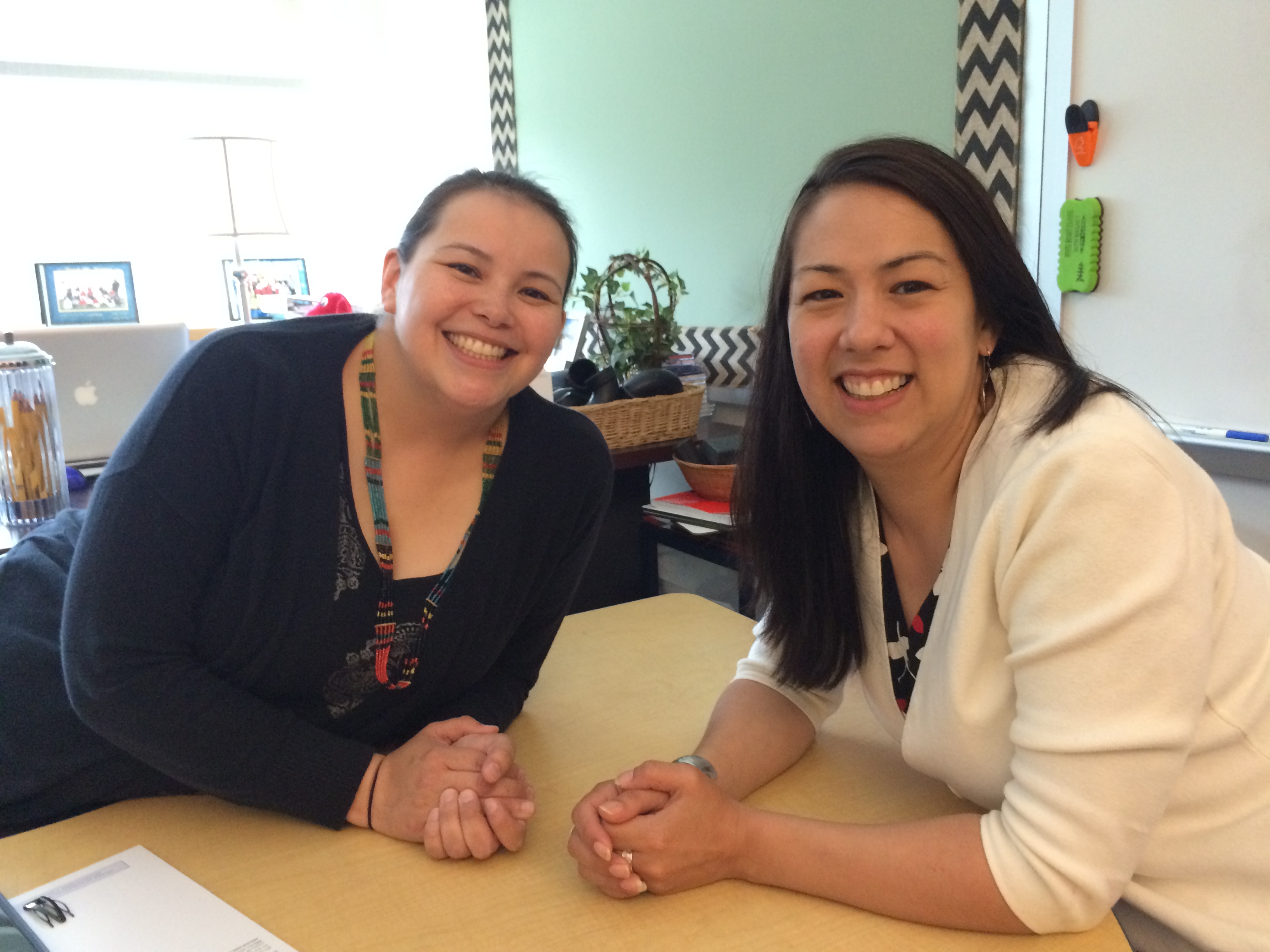 "I never had teachers like Ms. Kitty or Ms. Nancy," Chester says with tears in her eyes. "So my first year here, the way I saw them work with our children was so much different from the way I was treated and my brother and my sister were treated when we were kids. I just saw that, and something inside me grew and it made me a better person, it made our community better and I am forever grateful for the work they did."
Eddy knew the program was on the right track by the end of the first year. The kids and their families gathered for a party. All the students' grandmothers were in tears.
"It was the very first time in their lives that they had heard our language spoken in a public school. And I really think for all of us it really brought to light, 'Wow, we are doing something incredible and impacting not only the kids, but families,'" Eddy says.
Student test scores have had good and bad years, just like any other classroom, Eddy says.
"When you think about success it's more than just what the data tells us," Eddy says. "When you have kids happy to walk in the door in the morning, and they are engaged in what you're doing, they figure out who they are as a person."
Eddy says she hopes staff will be able to come together to continue the program without basing it on mandated curriculum. She says new administrations and changing mandates have sometimes put the program in flux.
"I think that they are amazing people who really are going to need to have fight in them to make changes that need to be made," says Eddy.
And if they need help, Eddy says not to worry. She'll come back occasionally as a substitute teacher or just to check on the family.