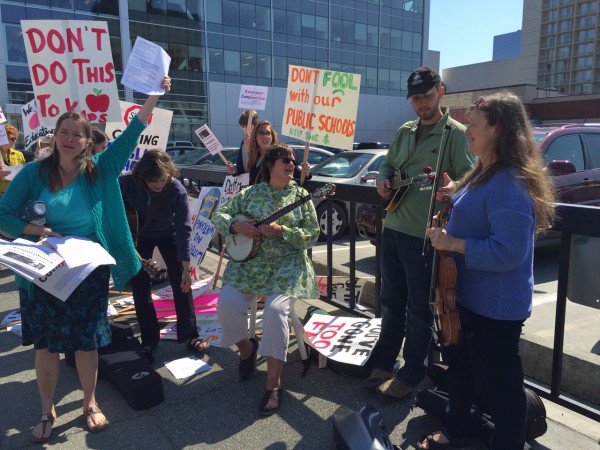 Some Anchorage area residents don't think the House Majority's recent budget proposal is good enough, even though it adds money back in for education. They don't like the plan to move around money to avoid a three-quarter majority vote either. About 50 people and a group of fiddlers gathered outside of the Legislative Information Office in downtown Anchorage Wednesday afternoon to sing modified versions of old camp songs.
"Mike Chenault — is this your fault? Fund schools. Kids rule," the group crooned to the tune of Camptown Races. "Fiddle around with Alaska's kids, we'll think about this day."
Great Alaska Schools organized the protest, one of many this legislative session. Statewide coordinator Deena Mitchell says they were prompted by the proposal to move Permanent Fund dollars in order to give access to the Constitutional Budget Reserve without a majority vote. She says the newest proposal from the Majority still cuts $32 million from education and leaves school districts with less money than they had last year.
"This is about the future of Alaska and our children. And to cut education after making that promise of the three years of funding last year and then not be willing to discuss this with the Minority is just wrong," she said. "They're fiddling with our future. They're fiddling with our finances. They're fiddling with Alaska."
Members of the faith community also continued their weeks-long vigil asking for Medicaid expansion. Fifteen different churches are taking turns sending members to the LIO to protest.
"We have just been eager to see it come to the floor anyway, which of course it hasn't as yet," said AFACT member Karol Libbey. "But we are still very hopeful that it will make it and support the 40,000 Alaskans who are uninsured at this time."
Republican lawmakers didn't include Medicaid expansion on the agenda for the special session.