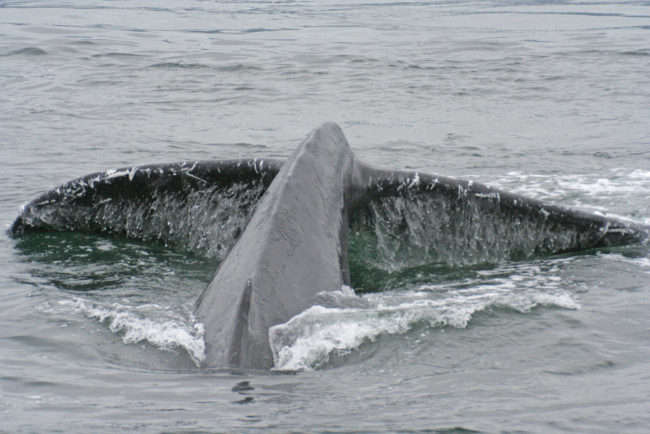 Local tour company Juneau Whale Watch recently finished paying almost $12,000 in fines for violating the Marine Mammal Protection Act and the Endangered Species Act.
The National Oceanic and Atmospheric Administration cited Juneau Whale Watch last fall for two violations that occurred in August 2013. Both incidents were reported to NOAA by members of the public and were verified with video and photo evidence.
The first violation took place around Horse and Colt Islands. In a news release, NOAA says a Juneau Whale Watch boat was seen chasing a pod of orcas, which caused the whales to change direction.
A week later, the company violated the "100-yard rule." It is unlawful to approach a humpback whale within 100 yards. During off-duty time, Juneau Whale Watch staff members were seen paddle boarding near humpback whales, including a mother and calf.
Juneau Whale Watch accepted responsibility and agreed to pay the fines soon after being notified of the violations. General Manager Serene Hutchinson says the company has made sure incidents like those don't happen again.
"This was an eye-opening experience. We have increased our trainings of our captains, and we've gone over the regulations better and we have more experienced captains now," she says.
Hutchinson says the captain involved in both violations is no longer with the company.
NOAA enforcement officer Robert Marvelle says, so far this season, NOAA hasn't received any complaints about potential violations on the water. But he says it's also early in the season. When the cruise ship season is in full swing, he says up to 60 boats can be in North Pass watching whales. They include charter fishing boats, whale watching boats and sport boats.
Besides following to the 100-yard rule for humpback whales, Marvelle says boaters shouldn't alter the behavior of marine mammals by getting too close.
"Give the animals space to do what they naturally need to do — for eating, just transiting the area, playing, all that," Marvelle says.
If you see a violation on the water, you can call the NOAA Fisheries Enforcement hotline at 1-800-853-1964.