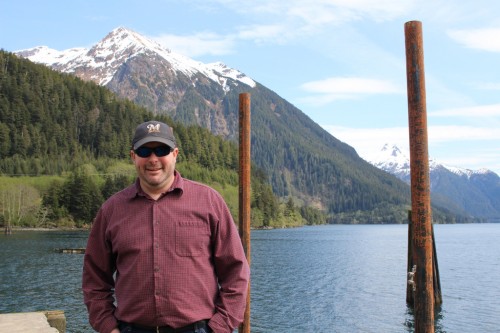 In Sitka, raising the hydroelectric dam at Blue Lake has created not only a source of renewable energy, but an even larger reserve of fresh water. The bulk water presents a business opportunity.
In April, California Governor Jerry Brown gave a speech in the Sierra Nevada Mountains. The formidable snowpack, which melts to provide ⅓ of California's water supply, was nowhere to be seen. The earth was brown and bare.
"People should realize we're in a new era," Brown said. "The idea of your nice little green grass getting lots of water every day – that's going to be a thing of the past."
The governor went on to impose the first mandatory water restrictions in California history, cutting urban use by 25%.
With a contract deadline looming that could terminate its exclusive rights, Alaska Bulk Water hopes to deliver on long awaited promises to ship tankers of water and to make California its first customer.
The contract has been extended four times (in 2008, 2009, 2011, and 2012) and to keep it, Alaska Bulk Water spent $1.5 million and must ship 50 million gallons by December 8th. Still, no water has been moved. Garry White, the Executive Director of the Sitka Economic Development Association says recent developments give him hope that water will finally leave the island this summer.
"When I see our current partners putting real money down to go out and put in a mooring buoy system and hire engineers to design it and going out and getting their Army Corps permit, doing all the right things and continuing to invest in the venture, then it's no longer a 30,000 view of it," White said. "It's starting to get down to the details."
In addition to storage on the California side, it's unclear what kinds of ships will be used. If those ships aren't flagged as American, their passage from Sitka to California violates the Jones Act, which prohibits the transport of goods by foreign vessels. White is looking to Alaska Bulk Water and several engineering firms to tackle these and other issues.