Scientists say climate change and diminishing sea ice could affect the health of Arctic fisheries.
Ed Farley, a fisheries research biologist at National Oceanic and Atmospheric Administration's Ted Stevens Marine Research Institute in Auke Bay, says warming ocean temperatures may affect abundant Arctic cod populations in the Chukchi Sea. Temperatures there have been increasing about 0.5 degrees Celsius every decade.
"Their growth rate is maximum at about 7 degrees Celsius as opposed to saffron cod where the maximum growth rate is about 15 degrees Celsius," Farley says. "So, Arctic cod prefer cold water for growth. In fact, if they get above 7 degrees Celsius, their growth rate declines, and  above 10 they tend to die. So, warming water is not good for Arctic cod while it's very good for saffron cod."
Farley says saffron cod have significantly less fat content than Arctic cod. An ice seal would have to eat nearly three times as much saffron cod to get the same nutritional value of an Arctic cod. Seals, in turn, are a favorite prey of polar bears.
Farley says scientists are planning further research to determine how sea ice and water temperatures affect Arctic cod habitat.
"One of the things that I want to mention that if you're a fish or marine mammal in this region, you're going to want to store as much fat as possible before winter," Farley says.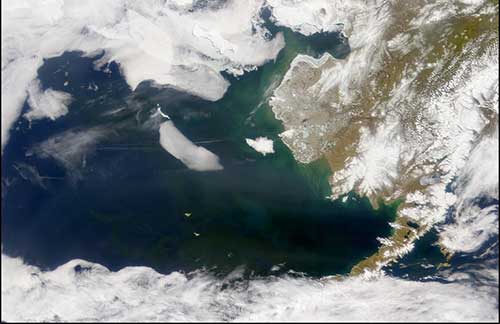 Much of that fat content is in the form of zooplankton, a favorite meal of many fish species. Farley says an early sea ice retreat generates more small zooplankton while a late ice retreat prompts growth of zooplankton that are larger or have more fat content. Farley says walleye pollock grow fatter themselves and have better rates of winter survival when large zooplankton is in abundance.
"Take home message here is if you're a fish, you want the larger zooplankton to get a better food packet," Farley says.
The Bering Sea pollock fishery is worth $497 million with much of the product showing up in stores as fish sticks or fake crab. Fishery managers and scientists have been curious about what caused a four-year decline in pollock abundance starting in 2004 that coincided with a warming trend. Abundance has since rebounded and NOAA says it's now at historic levels.
Jeff Key of NOAA's Satellite and Information Service says Arctic sea ice cover has expanded slightly within the last two years, but it is still trending downward toward record minimums.
"What we've learned very recently — and haven't even published yet — is that changes in winter time cloud cover can affect summertime sea ice," Key says. "That's hard to grasp because that's a difference in time of seven to nine months."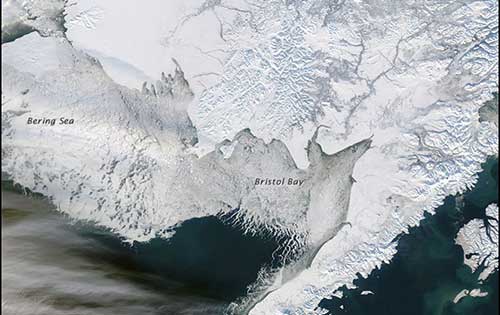 Key says they're also monitoring how changes in the Arctic can prompt extreme weather events in the Lower 48.
"We know that the polar jet stream has shifted. It's strengthened somewhat over Eurasia, but weakened over Canada," Key says. "What's important about that is that this affects mid-latitude climate. As the jet stream weakens, it tends to meander more and we get more extreme weather in the mid-latitudes. So, here's another example of what happens in the Arctic isn't staying in the Arctic."
Key says they don't have all the satellites and sensors that are necessary for Arctic research. He says they rely on partnerships with other agencies and cooperate with other countries to monitor sea ice thickness and melting, plant growth, and ocean circulation.
Farley and Key answered questions from the press in Washington D.C. Tuesday on climate change in the Arctic.