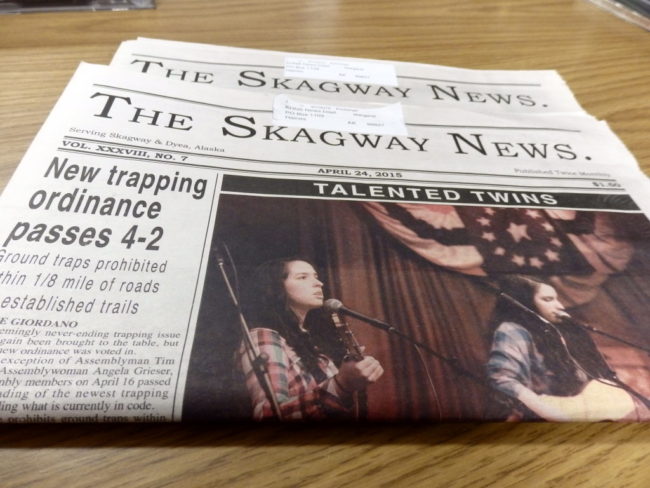 The Skagway News has new owners. As founding publisher and editor Jeff Brady announced in his last issue new owners take over the 900-circulation paper this month. The editorial team stays the same, but the Whitehorse-based owners plan changes to the 37-year-old newspaper's look and online reach.
When Brady listed the Skagway News for sale about five years ago, he knew it might take a while. He envisioned a young couple taking a chance like he did when he started the paper in 1978.
Eventually, a buyer did come forward and the new owners are no strangers to Skagway. They are Jans van den Hoorn and Chris Sorg. They own PR Services in Whitehorse. Van den Hoorn has family in Skagway and the company does business there. They print a variety of visitor guides
Brady was surprised when he visited them at their Whitehorse office last year and they suggested they were interested in the newspaper.
"Skagway really is the sister community to Whitehorse. So really it was an opportunity to deepen our roots in Skagway," Sorg says.
The newspaper industry has struggled for years. But Sorg says they go into the purchase knowing it may not be their most profitable business.
"Whether the paper is a big money maker is not going to be a make-or-break. I think we're it in for the long-haul and we should be able to sustain that. We didn't purchase it with the idea it's going to be a bonanza. A labor of love, let's hope. That's what it should be."
Elise Giordano will remain as Skagway News editor and oversee the paper's editorial content. Katie Kollasch will remain as advertising director and business manager.
Brady plans to help out for the next year and take on the title "editor emeritus." He'll even keep a desk at the newsroom for a while. But he says he wants to get out of the hectic cycle of being editor, publisher, writer and everything else that goes along with running a small paper.
The most visible changes to the Skagway News will be small design changes in the next issue, the first not under the ownership of Brady. It comes out on May 15.