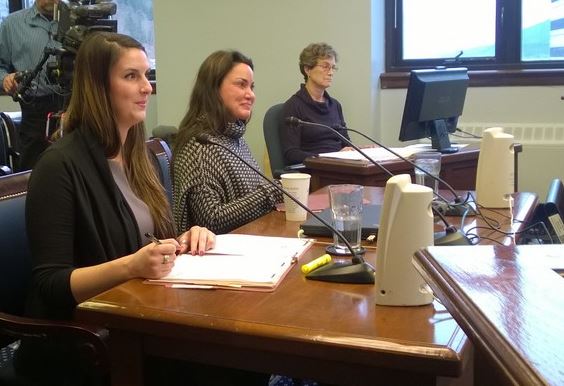 The latest, beefed up version of a law to mandate sexual abuse prevention education in public schools is unlikely to reach the governor's desk this year.
That's according to Senate Rules Committee Chair Charlie Huggins, who said in a committee Thursday that an expanded version of Erin's Law would likely be a two-year bill. Sen. Lesil McGuire's rebranded Alaska Safe Children's Act includes teen dating violence prevention.
Senate Bill 37 still requires public schools to provide age-appropriate K-12 sexual abuse education from Erin's Law. Now, it also includes teaching seventh through 12th graders about dating violence and prevention.
"Violent behavior normally – this is astonishing, but – begins between the ages of 12 and 18. That's when we start to see the signs of it. Only 33 percent of the teens who have been in a violent relationship are reported to have ever told anyone about that abuse," said Anchorage Republican Sen. Lesil McGuire.
This part of the bill was largely created due to what happened to 20-year-old Anchorage woman Breanna Moore, McGuire said. Moore's mother Cindy Moore gave a tearful testimony describing how her daughter was shot in the head and killed in 2014. Breanna's boyfriend has been charged with murder and is awaiting trial.
"How could this have happened to such a strong, beautiful and independent young woman. Why didn't she say something about the continuing abuse we later discovered? Why did she stay? Why did she not seek help? As parents, why did we not see the signs?" Moore said dating violence education in schools will save other young people.
McGuire's rewritten bill gives parents the option of excusing their children from the prevention education. Another added component of the bill would make it mandatory for some volunteer athletic coaches to report child abuse. They'd receive training.
Democratic Sen. Berta Gardner said that requirement may put off some volunteer coaches.
"Even if we recognize that it's important for people to understand what they might be looking for and how they can intervene or get help, be responsive to something that isn't right, we don't want to go so far that people just plain don't want to volunteer," Gardner said.
The bill requires school districts to bear the cost of implementation, but it also repeals other unfunded mandates, like requiring a second round of fingerprints and background checks for certified preschool teachers.
Still, school district representatives like Ketchikan Gateway Borough Superintendent Robert Boyle called McGuire's bill another unfunded mandate.
"Public schools are the go-to agency when it comes to efficiency, quality and creating massive changes in the society. We're very good at this. But providing the change needed in our state related to Senate Bill 37 is something I believe we will accept willingly and fully embrace. However, the way the bill is written is extraordinarily unfair to the public school system if it is to be implemented at no cost," Boyle said.
Four bills addressing Erin's Law have been introduced this session. Erin's Law is the one specific piece of legislation Gov. Bill Walker said he wanted on his desk during his State of the State Address.
McGuire's Alaska Safe Children's Act was held in the Senate Education Committee and is scheduled to be heard again on Tuesday. Republican Rep. Charisse Millett's similar bill is in committee Monday at 8 a.m.