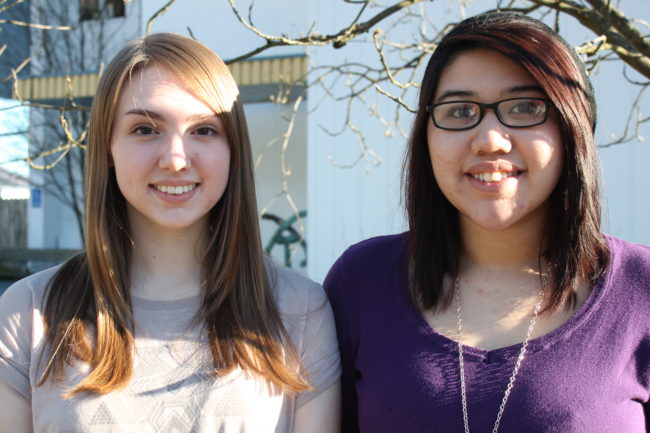 Several Juneau teenagers are heading to Anchorage this weekend to accept a Spirit of Youth Award for making a YouTube video on healthy relationships and nonviolence.
A row of 10 Oreo cookies are laid out on a rock wall. The camera pans across each one. Then— BAM!
A hammer smashes the 10th one. Up pops the statistic – "1 in 10 teens have been physically abused by their partner."
"We thought we needed to engage the audience a little bit more than just saying the fact," says 16-year-old Deanna Hobbs, one of the six award-winning creators of the video. "Some people think it's humorous, some people think it's a little harsh, but it always gets people's attention, so I think we got the point across."
The 5 and a half minute video has been viewed almost 900 times. It shows teenagers talking about the importance of communicating to prevent violence, and the concepts of consent and boundaries.
"Boundaries are important not only in romantic relationships but also in friendships," a voice-over says in the video, as a line is being drawn in sand. "It's so important to maintain your sense of individual identity and to just know when you need to take time for yourself."
The video also features teens talking about what healthy relationships look like and dramatizes red flags of unhealthy relationships. Another video creator, 17-year-old Analicia Castaneda-Felipe is in a dramatization. It starts out with a couple, sitting and having a conversation.
"The girl gets up and walks away and the guy picks up the phone and starts looking at it. And then we thought it would be funny if some random person – me – just walks in and asks, 'Did she say you could read her texts?' It kind of catches him off guard," Castaneda-Felipe says.
Other red flags include a bossy or controlling attitude, someone who's disrespectful or isn't trusting.
Castaneda-Felipe and Hobbs are both part of Teen Council, a peer-led sexual education program of Planned Parenthood. The group meets once a week and has led discussions at workshops and school health classes.
"Talking about sex or just sexuality topics is really taboo for teenagers. It's something that growing up we're taught we shouldn't be comfortable talking about. So if teenagers see their peers openly talking about healthy relationships and boundaries and stuff, it might show them that it's not weird to be comfortable with it," Castaneda-Felipe says.
Hobbs says they also talk to friends and classmates and have one-on-one conversations.
"We know that if we educate one person, that person is going to go and educate other people," Hobbs says.
Spirit of Youth is a nonprofit dedicated to recognizing youth involvement in communities across the state. The awards recognize teenagers who actively work to make Alaska a better place. Juneau teens Korbyn Powers, Justin Sleppy, Addisohn Jones and Calvin Zuelow are also on the video team getting awarded.
Castaneda-Felipe says being part of Teen Council, making the video and spreading awareness of healthy relationships has empowered her.
"It's taught me that I can use my voice and then be heard and appreciated for doing so, because I've always really been, like, the quiet person in class and whatnot. So people watch the video and they're like, 'Wow, she has good things to say,'" Castaneda-Felipe says.
The Spirit of Youth Award comes with $500. The teens are using the money to help fund a teen-only event in Juneau, Teentopia. It's open to all local high schoolers. The free event, for teens by teens, takes place Friday night 6 to 9:30 at the Juneau Yacht Club.