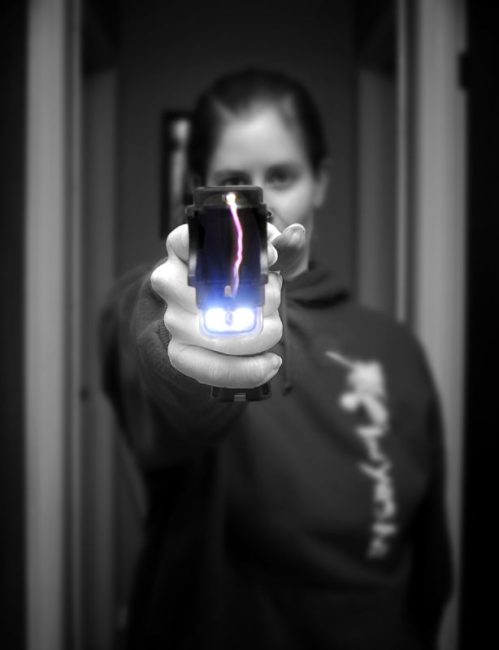 Juneau Police officers used force 39 times out of 1,179 arrests last year.
That's according to a department report documenting the use of force, which is defined as overcoming a person's resistance to being placed into custody. Department officials say the figure has remained relatively low over the last five years, about 3 percent of all arrests.
"Which means that on 97 percent of arrests, we're not using force," says Lt. David Campbell of the Juneau Police Department.
Campbell says it's the first time they have compiled the numbers and analyzed what their officers are doing on the street as part of an effort to promote department transparency.
"We have 49,000 incidents every year. So, it's even less if you were to look at it from incident point of view," Campbell says. "We only looked at it from an arrest point of view. I was pleasantly surprised that we're using force on a really limited basis."
Department officials categorized force into use of hands, pepper spray, baton, Taser and firearms. For last year as an example, officers used a Taser 21 times, used their hands 14 times, pepper spray was used during three arrests, and a baton was used once. There was no use of a firearm during any arrest over the last five years.
"From 2013 to 2014, our Taser use increased. But our use of hands decreased," Campbell says. "The overall numbers are real close to one another. That shows that we're training officers to use the Taser more and use your hands in certain situations because of the likelihood of getting hurt if you engage hand-to-hand."
The released figures are only for the years 2010 through 2014 and do not include, for example, the 2007 shooting of a man who threatened an officer with a sword. In 2012, a former officer fired as many as 45 rounds at his former colleagues, but responding officers did not return fire.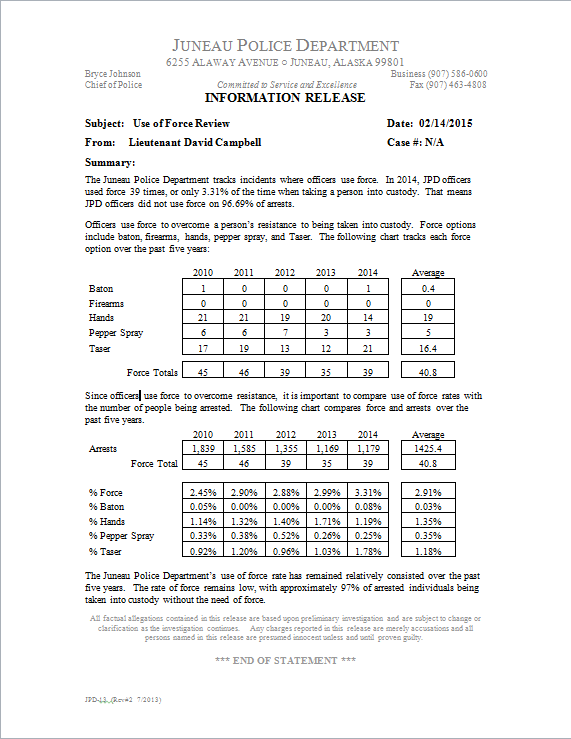 "I don't really see anything that's particularly problematic," says Troy Payne, assistant professor of justice who specializes in policing and crime prevention at the University of Alaska Anchorage's Justice Center.
Payne says Juneau police's reported percentages for use of force are lower than expected.
"It's a little hard to say because we don't have clear, easy to compare measures from one department to another when it comes to the use of force or really anything, honestly," Payne says.
Payne says it's extraordinarily difficult to compare one department, one place to another. Other departments similar to Juneau's, for example, may be located near a major metropolitan area or classify handcuffing a suspect as a use of force.
"It can be somewhat violent. Anyone who's been handcuffed can attest to that," Payne says. "Police departments look at it differently because they almost always have a policy in place that requires the handcuffing of arrestees. Usually anyway, handcuffing is not seen by police departments as something that is discretionary on the part of the officer."
Other police departments have reported the use of force in as much as 20 to 25 percent of arrests – not counting the use of handcuffs.
Payne says departments across the country are trending toward more transparency and reporting use of force after recent events in New York and Ferguson, Mo. Anchorage is also considering releasing similar figures.
Campbell says it's also important to note that all of their officers, of course, live in Juneau because they are unable to regularly commute to another community.
Payne says Juneau is not necessarily unique. Many other departments have requirements that officers live in the same community where they work. Still, that can have a big impact on the social dynamic, the nature of encounters with citizens, and possibly the use of force.
"There's a huge difference in the dynamic of an encounter when the people are known to one another," Payne says. "Any two people meeting randomly meeting on the street are more likely to know one other than in a lot of cities throughout the U.S."