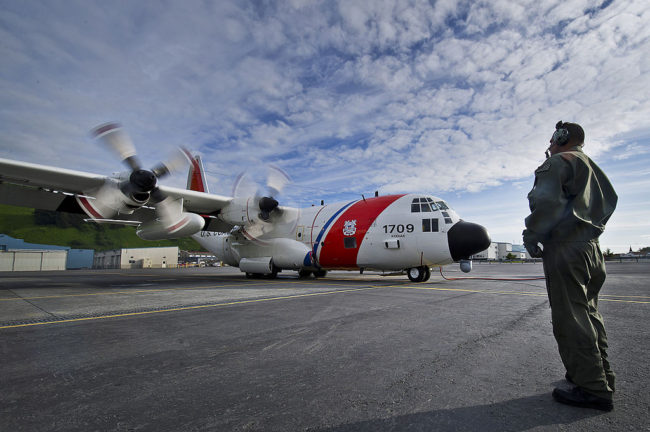 Two Coast Guard H-60 helicopters and a C-130 aircraft were part of an effort to retrieve and transport an ill crewman from a fishing vessel in the middle of the Bering Sea.
The 22-year-old man suffered from urinary tract complications, and the Coast Guard flight surgeon recommended the crewman be transported to a medical facility as soon as possible.
An H-60 was sent from a forward operating base in Cold Bay up to St. Paul, and then flew another 170 miles northwest to the 165-foot fishing vessel Northern Leader. Once there, the helicopter crew hoisted the fisherman aboard.
A second helicopter launched from Kodiak as a rescue back-up and flew over to Cold Bay. The C-130 followed with relief crews and to serve as communications platform above the Northern Leader.
Lt. Greg Isbell, watchstander at the Coast Guard's Command Center in Juneau, says they started the mission at about 7 p.m. Tuesday. After the helicopter with the ill crewman landed in St. Paul Wednesday morning, a commercial medical flight service transported him to an Anchorage hospital.
Isbell says there were no problems encountered during the medevac. Conditions at the scene included winds under 30 knots, limited freezing spray, and 10-mile visibility.
Isbell says the Northern Leader was participating in the opilio crab fishery in the Bering Sea.