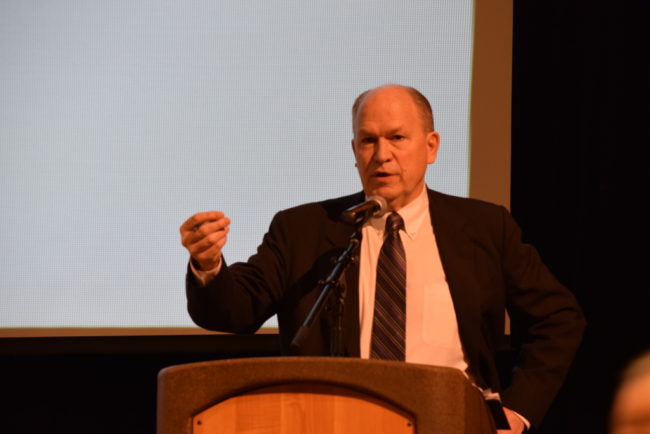 Gov. Bill Walker says Alaska's multibillion dollar budget shortfall is an opportunity for residents to show their ingenuity.
Speaking at the Innovation Summit in Juneau on Thursday, Walker shot back at some naysayers in the Alaska Legislature who said the state won't be able to balance its budget on beer and carrots. That's a reference to last week's State of the State Address, where the governor cited two of his favorite examples of Alaska innovation: Beer from the Alaskan Brewing Co. in Juneau and carrots from farmers in the Mat-Su.
"I want a carrot beer of some sort, so I can sort of prove to the legislature that we can do this on beer and carrots," Walker joked. "But my example was value added, the example I was using was value added. My goodness, what a value added opportunity we have in this state. We export so many of our jobs when we export our raw materials."
The annual Innovation Summit is organized by the Juneau Economic Development Council. The conference brings together industry leaders, government officials, researchers and others to network and discuss Southeast Alaska's economy.
Walker says too many Alaskans have grown complacent.
"Our forefathers in this state, they survived because they were innovative, and we need to do the same," he said. "We've gotten a little bit lax in that regard, because once we got money, we just sort of stopped doing that, and started just getting busy counting our money and finding out who gets the last dollar. And that's not what it's all about. That's not what made Alaska great. That's not what's going to take us on to the next level."
Walker's 13-minute speech touched on several other themes he struck during his State of the State and State of the Budget speeches. With lower than expected oil prices shrinking state revenue, Walker says Alaskans need to get creative.
"At $50 (per barrel) oil – and I may be a little bit optimistic – we can do things that we couldn't do at $150 oil," he said.
The Independent Walker says his administration is trying to do its part by bringing together Alaskans of all political parties to do what's best for the state.