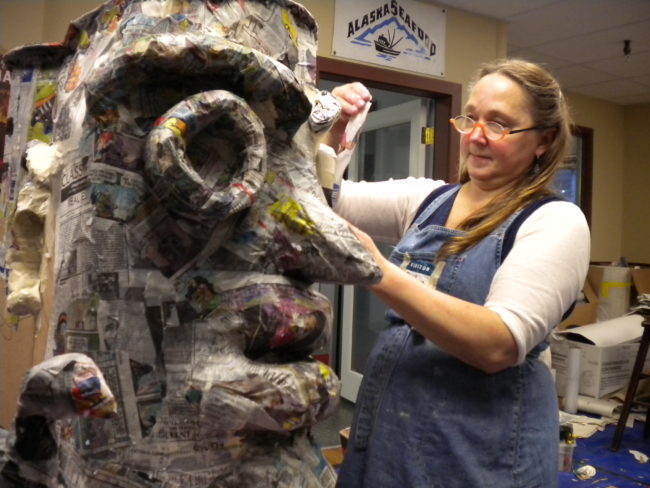 Three visiting artists are helping Juneau residents spin cardboard into gold as they build a variety of life-size puppets.
It's part of a project to create over 100 small and life-size puppets. Performers will wear them during the Governor's Awards for the Arts and Humanities on Thursday, and they'll serve as the pre-show entertainment for the Wearable Art Extravaganza on Feb. 14.
It's a Saturday afternoon and a studio in the Merchants Wharf of downtown Juneau is filled with cardboard, fabric and old newspapers. The sewing machines and power tools hum as artists stitch, paste and staple materials together.
Patty Mitchell is in the middle of sewing neon feathers onto a giant black tutu.
The tutu will serve as the neck for a giant bird puppet being constructed as part of a month-long project. Most of the materials used for the project are donated by Juneau residents. Seatbelts, crutches and old dresses have already been dropped off at the wharf for the artists.
"You never know what people are going to bring, and so I'm kind of in a candy shop right now with everything I've ever wanted," Mitchell says.
Mitchell, of Ohio, has been making puppets professionally for the last four years and estimates she's crafted at least 200. She is one of three visiting artists helping local artist M.K. MacNaughton to complete the giant puppet project.
"I love that (in) art there aren't any wrongs or rights in how you do things. Sometimes mistakes lead to the coolest outcomes." – MacNaughton
MacNaughton raised over $8,000 for the community project. She and the three visiting artists will spend their days through Feb. 12 leading puppet workshops for Juneau schoolchildren. At night, they work in the puppet studio alongside local volunteers.
On the other side of the puppet studio, visiting artist Daniel Polnau is building a structure that will hold a giant puppet on a performer's back.
"One of our mottos is low-tech, high magic," Polnau says.
Polnau frequently walks along the beaches of Juneau, picking up long sticks he may or may not incorporate into his puppets. He says puppetry forces an artist to combine a number of talents.
"A project like this is almost like putting together a Thanksgiving dinner. You're kind of scurrying around and creating 12 dishes at once," Polnau says.
Dishes that include puppet sea goddesses, flying wolves and giant monsters. Even Juneau City Manager Kim Kiefer has influenced the artists' imaginations, as a puppet resembling her is under construction for Wearable Art.
As visitors to Juneau, Polnau and Mitchell say they've been impressed by the range of artistic talent that strolls into the puppet studio. Passersby often walk in with little artistic experience and end up recycling trash into art.
"We humans are designed to be together and make things together and we just create a little bit of structure, foundation, opportunity for people to come in and investigate," Mitchell says.
MacNaughton and the visiting artists will continue offering community workshops in the Merchants Wharf from 4 to 8 p.m. every weekday, and 10 a.m. to 5 p.m. every weekend until Feb. 12. They encourage anyone in Juneau to come in and try to think outside the box.